Purchase of 50% equity interest in Fox Energy Company, LLC from GE, a US-based IPP (Independent Power Producer) Company
January 5, 2009
We are pleased to announce that Tyr Energy, Inc., an affiliate of ITOCHU Corporation and ITOCHU International Inc., has acquired half of the Fox Energy Center, a 593-megawatt power plant in Wisconsin, from GE Energy Financial Services, a unit of GE (NYSE: GE). Tyr is purchasing the 50 percent equity interest in Fox Energy Company, LLC from an affiliate of GE Energy Financial Services, which retains 50 percent. Tyr currently owns interests in assets totaling 1,153 megawatts (gross*) in US.
Concurrent with the equity investment, Fox Energy completed debt financing of the dual-fueled, combined cycle power project with a lender group including General Electric Capital Corporation, Union Bank of California, N.A., ING Capital LLC, and WestLB AG's New York Branch. Purchase and financing details were not disclosed.
Fox Energy began commercial operation in 2005, and its output is sold under a long-term tolling agreement with Wisconsin Public Service Corporation. Output from the units' duct burners is sold under a capacity contract with a third party. A unit of GE Energy operates the facility.
This is the fourth transaction between Tyr and GE Energy Financial Services. It led the financing of Tyr's wholly owned Commonwealth Chesapeake Company, LLC project in Virginia earlier this year. And Tyr and the GE unit were co-owners of the Green Country Energy project in Jenks, OK from 2005-2007.
ITOCHU continues to pursue IPP investments and its value creation in US selecting investment opportunities carefully by making the best use of expertise of ITOCHU entities which are asset investment and asset management provided by Tyr Energy and O&M capabilities provided by North American Energy Services (NAES).
About Tyr Energy (Headquarters: Overland Park, Kansas)
| | |
| --- | --- |
| CEO and President | Mr. Kaoru Usami |
| Overview | An IPP Company wholly-owned by ITOCHU Corp. and ITOCHU International, Inc., Tyr Energy and an affiliate, Tyr Capital, LLC, currently own equity interests in five 50 MW gas-fired IPPs located in California, and Tyr Energy owns a 315 MW oil-fired IPP in Virginia. Tyr Energy also holds a 49% interest in American Renewables LLC, which is developing waste-wood fired power projects in the United States. Tyr Energy, through an affiliate, provides asset management services to those IPPs and had provided the services for other IPPs owned by financial investors. |
About NAES Corporation (Headquarters: Seattle, Washington)
| | |
| --- | --- |
| CEO and President | Thomas A. DeNova |
| Overview | NAES Corporation, a wholly-owned subsidiary of ITOCHU Group, is the largest independent, third-party provider of power plant operations and maintenance services. NAES has contract operation service experience of more than 140 plants in 10 countries (equivalent to 37,000 MW), as well as various major maintenance service experience to large scale boilers, electrical systems, gas turbines, and steam turbines. |
Formation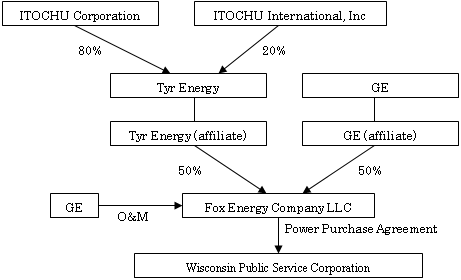 ---