New Business Development for Solar Photovoltaic
Acquisition of PV SI both in U.S.A. & Japan
April 13, 2009
ITOCHU Corp, in conjunction with its U.S. local subsidiary, ITOCHU International Inc., has acquired 85% of the shares of SolarNet, a solar photovoltaic (herein after PV) system integrator (hereinafter SI) from the current owner.
In addition, ITOCHU has acquired a 67% share of Ecosystem Japan Ltd., a solar PV SI involved in the residential market, from R&B Investment and Consulting.. Furthermore, ITOCHU will acquire up to 85% of the shares by the end of June.
ITOCHU has acquired or invested in a number of SIs to date, starting with Solar Depot LLC (USA in June 2007), Scatec Solar AS (Norway, May 2008), Greenvision Ambiente Photo-Solar SRL (Italy, December 2008),and Enolia Solar Systems SA(Greece, March 2008). This is part of ITOCHU's "SI-Strategy", which aims to establish on a global basis the strongest sales network and most efficient distribution system.. ITOCHU aims to share information about market demand, products and the investment environment regarding large-scale PV generation business (Solar Park), among 3 major markets, which are the USA, Europe and Japan.
Solar Photovoltaic System Integrator

A generic name for a company that handles design, sales and installation of PV modules and balance of systems for photovoltaic systems.. Function & business structure will differ with regard to scale, customer (i.e. residential, commercial site, large-scale electric generation, etc.,) and market character.
Solar Net LLC (USA)
Solar Net LLC is composed of DC Power Systems Inc. and Stellar Energy Solutions Inc.. DC Power Systems is one of the largest PV distributors in the US market, based in California, with a network of over 800 installers serving the residential and commercial markets. Stellar Energy Solutions Inc. is a leading solar system integrator with comprehensive services including project financing, engineering and installation management.
In the USA. President Obama announced a "New Energy for America Plan", with US$150 billion to be spent on New Energy related investment over 10 years. In addition, a part of the Obama Stimulus package (ARRA = American Recovery and Reinvestment Act), which was signed in February 2009, includes US$19.4 billion of ITC (Investment Tax Credit) and US$37.5 billion in subsidy to be granted for renewable energy industries, including PV. The substantial government investment along with strong long-term fundamentals makes clear the strong potential of the U.S PV market.
California, where Solar Net is based, is aiming to install 3GW of Solar PV, and it has offered strong incentives compared to other states. Because of this, rapid growth of the PV market in CA is expected. In this state, Itochu also owns Solar Depot, which was acquired in 2007. Solar Depot achieved more than 50% growth in 2008, and the combined share of the US wholesale distribution market with DC Power Systems is estimated at 30%.. In the future, Itochu plans to aggressively focus on the development of commercial-scale and public facilities markets. Itochu also plans to develop not only the California market, but also to expand services to cover the entire US market.
Solar Net Company Profile

| | |
| --- | --- |
| (1) COMPANY NAME | Solar Net LLC. |
| (2) ADDRESS | 30 C Mill Street, Healdsburg, CA95448 |
| (3) ESTABLISH | 2001 (D.C.Power Systems Inc.,) |
| (4) Main Business | Residential Area PV SI, Commercial Scale PV SI |
Reference Photo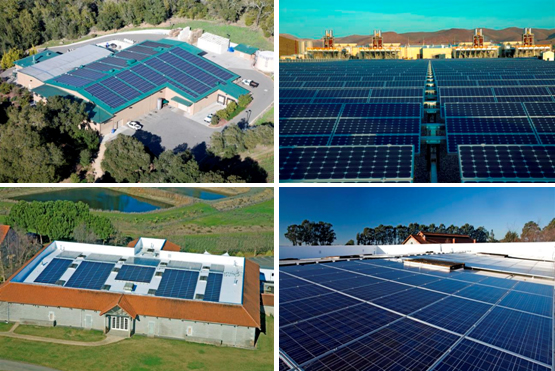 Ecosystem Japan Co., Ltd.
The residential PV market in Japan is expected to grow significantly due to the revival of subsidies at the national and municipal levels and the expected introduction of a feed-in tariff from next fiscal year.
Ecosystem Japan is the market leader in the domestic (Japan) residential retrofit market for PV systems. Up till today, it has sold and installed about 11,000 systems in total. Ecosystem Japan can handle all of the four major types of Japanese PV systems which currently being installed, using its own installation staff. Ecosystem Japan covers all of Japan excluding Hokkaido and Okinawa from its six branch offices.
From now on, ITOCHU Corporation will make full use of the synergy between Ecosystem Japan and ITOCHU Group in order to grow sales and installation in the residential retrofit market, and participate in the wholesale business for the industrial and public sector markets as well as the eco-sensitive products market to homeowners.
EcosystemJapan Company Profile

| | |
| --- | --- |
| (1) COMPANY NAME | Ecosystem Japan Co., Ltd. |
| (2) ADDRESS | 23-2, Sakamachi, Shinjuku-ward, Tokyo, Japan |
| (3) ESTABLISH | 1997 |
| (4) Main Business | Generation systems and eco-sensitive products |
Reference Photo

Setting Up of Solar Business Department
As of Apr/1st, Itochu Corp has established The Solar Business Department under the direct control of headquarters. In Itochu?multiple departments had been developing PV business from upstream to downstream. The establishment of the new department will accelerate Itochu's efforts to integrate the PV value chain, consisting of raw material (polysilicon), ingot/wafer production, SI and large-scale power generation. In addition, Itochu will develop PV business with the best efforts of ITOCHU Group, in order to contribute to society through promoting and expanding environmentally friendly solar PV.
Based on the new structure, Itochu will continue to pursue its strategy of achieving its target of annual sales of 100 billion Yen by 2010 in the solar energy field.
Previous Invested Companies
System Integrator

Solar Depot LLC.
| | |
| --- | --- |
| Country | USA CA |
| Main Business | Residential/Commercial Scale PV SI Solar Thermal SI |

Scatec Solar AS
| | |
| --- | --- |
| Country | Norway |
| Main Business | Solar Park SI Investment to Next Generation PV Technology Venture. |

Enolia Solar Systems SA
| | |
| --- | --- |
| Country | Greece |
| Main Business | Commercial-Scale SI Solar Park SI |

Greenvision Ambiente Photo-Solar SRL
| | |
| --- | --- |
| Country | Italy |
| Main Business | Commercial PV SI-Scale Solar Park SI |
Ingot/Wafer Prodcuction

NorSun AS
| | |
| --- | --- |
| Country | Norway |
| Main Business | Production of Mono-Crystal Silicon for Photovoltaic and Wafer |
---