ITOCHU Begins Selling Digital Signs
July 15, 2009
ITOCHU Corporation has formed a partnership with C-DiC Co., Ltd. (head office: Ichinomiya City, Aichi Prefecture; CEO: Kunihiko Kakehashi) and NANO OPT Media, Inc. (head office: Central Ward, Nagoya City; CEO: Hiroshi Fujihara) to enter the digital signage business. ITOCHU will do the business planning via its Gazara brand, while the digital signage will be sold by ITOCHU's subsidiary, ITOCHU Electronics Corp (head office: Shibuya Ward, Tokyo; CEO: Toyohisa Tsuji).
The Gazara digital signs consist of an LCD display and a video controller device in a single unit measuring1920 by 705 by 605 mm. These signs can play video as well as displaying still images, and feature a stylish body that catches the attention of passers-by with a 46 inch LCD display that is one and half times as bright as previous models. Marketing messages can be delivered even more efficiently by changing the display content to match the time and place. The signs can also be moved easily, since they are independent units with their own caster, and do not require special installation.
There are two models currently available: the network-enabled Gazara plus model and the standard alone Gazara monitor model without a network connection. With the Gazara plus model, video can be downloaded from a server over the network.
ITOCHU is aiming to expand its efforts directed at the digital signage business, by providing software support and distributing content and advertising, and so on.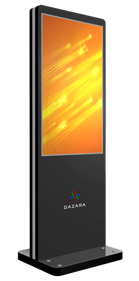 ---