Corporate Competition! MOTTAINAI Mt. Fuji Clean-up Competition '09 Sunday, July 26, 2009 at Aokigahara Forest, Mt Fuji
July 15, 2009
We are hosting the "Corporate Competition! MOTTAINAI Mt. Fuji Clean-up Competition '09," sponsored by the MOTTAINAI Campaign Office.
Why don't employees of companies participating in the MOTTAINAI campaign go out and pick up trash instead of discussing environmental issues in conference rooms? Sweat and compete based on the volume and quality of trash! This year is the fourth year of the event, following the third event last year. Some 230 people from 30 companies supporting the MOTTAINAI campaign participated in this event last year, embodying the spirit of corporate competition in a clean-up activity. Exceeding expectations, they collected cans, tires, home appliances and other trash, enough to fill a 1.5-ton truck.
The number of participants this year should be roughly the same as last year, with approximately 230 people from 30 campaigning companies planning to take part. We expect a more intense clean-up competition this year. The event will again be held at Aokigahara Forest at Mount Fuji, a place that is a symbol of Japan's natural beauty but that has been suffering from illegal rubbish dumping in recent years.
On the day, we will be privileged to welcome Ken Noguchi (a mountaineer who has been the driving force behind clean-up mountain-climbing activities on Mount Fuji since 2000) as the head of the judging committee and Lou Oshiba (an actor and comedian) and Ken Hasebe (representative of the Green Bird clean-up organization) as special judges. The clean-up competition will be under the guidance and judgment of experts, with cooperation from the Mount Fuji Club, a non-profit organization.
Details of the Corporate Competition! MOTTAINAI Mt. Fuji Clean-up Competition '09
1. Date
Sunday, July 26, 2009 7:45 a.m. to 8.20 p.m. (tentative)
2. Place
Aokigahara Forest, Mt. Fuji
3. Sponsor
MOTTAINAI Campaign Administration Office (ITOCHU Corporation, The Mainichi Newspapers Company))
4. Cooperation
Mt. Fuji Club, a non-profit organization
5. Head of the Judging Committee
Ken Noguchi (mountaineer and MOTTAINAI Lab research staff member)
6. Chief Judges

Ken Hasebe (Representative of the Green Bird cleanup organization and MOTTAINAI Lab research staff member)
Lou Oshiba (Actor, comedian and MOTTAIANAI Lab research staff member)

7. Event rules
Companies compete for a comprehensive score judged by the volume of trash, teamwork, employee attitudes toward picking up trash, etc.
Photographs from last year's competition (September 27, 2008)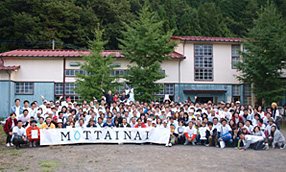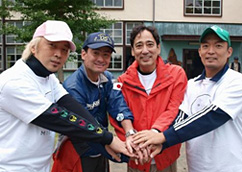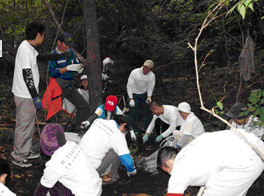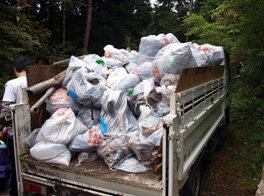 ---