MOTTAINAI Flea Market 2009 to be held for two days from September 5th (Sat.) to 6th (Sun.), 2009 at Pacifico Yokohama
August 20, 2009
ITOCHU Corporation will hold the MOTTAINAI Flea Market 2009 with Tokyo Recycle Undo ShiminNoKai at Pacifico Yokohama, as last year.
MOTTAINAI Flea Market is an event held as part of the MOTTAINAI Campaign called for by Kenyan Prof. Wangari Maathai, winner of the Nobel Peace Prize. A total of 125 markets have already been held since April 2007.
ITOCHU Corporation will continue to promote the MOTTAINAI Flea Market as a place for encouraging activities to make the most of limited resources based on the concept of MOTTAINAI, to use goods as efficiently as possible and, once done with them, let other people make use of them.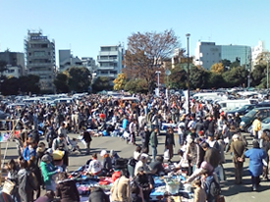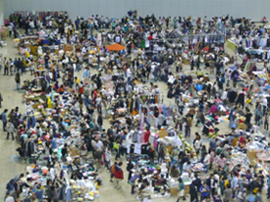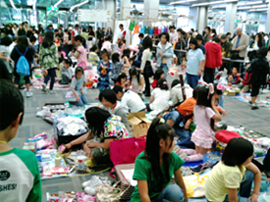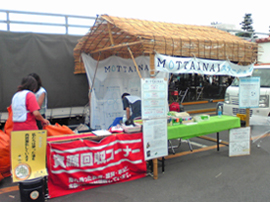 Overview of MOTTAINAI Flea Market 2009
A MOTTAINAI station will be set up to recover resources such as used clothes, used books, and tempura oil, and a MOTTAINAI booth will be set up to promote the concept of environmental activities, along with the 3Rs (Reduce, Reuse and Recycle) + Respect. A Kids Flea Market will also be set up, held only by children. In addition, Levi's® will sell jeans for 501 yen in line with its popular 501 series, as part of charity sales of recovered goods of companies that support the MOTTAINAI concept. In addition, watches will be sold from 500 yen and suits, etc. will be sold from 1,000 yen, with proceeds donated to the Green Belt Movement and the Japan Stop AIDS Fund.
As last year, this event will be held concurrently with Yokohama International Festa 2009 with Mini Yokohama Dagashiya Gakko, which will offer activities for international exchange and support for foreign residents of Japan. This is an environmentally friendly event that attracted some 63,000 visitors in total last year.
Venue
Pacifico Yokohama, Exhibition Hall B
Period
For two days from September 5 (Sat.) to September 6 (Sun.), 2009
Opening hours
From 10:30 to 17:00
Visitors (expected)
About 65,000 people (for two days); free entrance
Official site

http://www.trx.jp/pcfc2009/

Flea Market (up to 300 booths per day)
Kids Flea Market (about 60 booths per day / from 11:00 to 12:30 and from 14:30 to 16:00)
Resources recovery at the MOTTAINAI station and MOTTAINAI declaration
Charity sales of company recovered goods (cooperation: Barneys New York, TiC TAC and Levi's®) recruitment Booths to present approval companies
Workshop "Umino (Ocean) Candle" made from tempura oil
MOTTAINAI Campaign official site
http://mottainai.info/

Tokyo Recycle Undo ShiminNoKai official site
http://www.trx.jp/

---