Four Companies in the UNY and ITOCHU Groups Release Renewed and New Products for the Joint Karada Smile Project
October 6, 2009
ITOCHU Corporation, UNY Co., Ltd. (headquartered in Inazawa, Aichi Prefecture; Tetsuro Maemura, President), Circle K Sunkus Co., Ltd (headquartered in Chuo Ward, Tokyo; Motohiko Nakamura, President). and FamilyMart Co., Ltd. (headquartered in Toshima Ward, Tokyo; Junji Ueda, President and Representative Director) announce the release of new and renewed products as part of the Karada Smile Project. The Karada Smile Project has been jointly planned, developed and promoted by the four companies.
The companies developed the Karada Smile Project to meet the needs created by today's growing awareness of health, and with the goal of providing products that contribute to customer health.
Last January, the four companies jointly released "Flavorful Bread Rich in Fiber and Low in Calories," with as little as 200kcal per serving. This groundbreaking product has won over many customers.
In renewing the product, the companies have made advances in research and development to improve the bread dough, using a different type and blend of dietary fiber while keeping calories low. The renewed product is now even better positioned to meet customers' needs. The companies will also give customers more opportunities to try the bread for themselves, through in-store campaigns and media promotions.
Also seeking to expand its product lineup to improve customer satisfaction still further, the Karada Smile Project today announces the release "Yogurt with Ample Dietary Fiber." Yogurt has always been one of the best foods for people to consume, and this new product blends in an abundance of dietary fiber, while retaining the natural yogurt flavor.
One cup of the new yogurt contains 10.3g of dietary fiber, or about half the recommended daily requirement (according to the estimated average requirement specified in the Dietary Reference Intakes for Japanese (2005 Edition)). The companies are confident that this zero fat, 60kcal yogurt will meet a broad range of needs.
The UNY Group and the ITOCHU Group will continue to advance the Karada Smile Project and offer products and services of value to their customers.
A Flavorful Bread Rich in Fiber and Low in Calories
Renewal details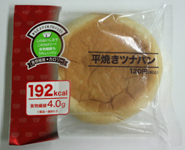 Improved bread dough for enhanced flavor and fluffiness by modifying the type and blend of dietary fiber without changing dietary fiber contents and calories
A new package that allows consumers to recognize the calories and fiber content at a glance, make it easy to pick up at the store
Yogurt with Ample Dietary Fiber
Characteristics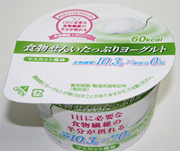 Contains 10.3g of dietary fiber per cup, providing as much as half the recommended daily intake. (According to the estimated average daily requirement specified in the Dietary Reference Intakes for Japanese (2005 Edition))
Zero-percent fat and 60kcal per cup
Refreshing, muscat flavor
---