ITOCHU and MITSUI Approved Pre Sanction Funding
Expanding the Installed Capacity to Deal with Medium and Long-Term Increase in Demand for Iron Ore
January 29, 2010
ITOCHU Corporation ("ITOCHU") and Mitsui & Co., Ltd. ("Mitsui", head office: Chiyoda-ku, Tokyo; President: Masami Iijima) approved the pre sanction funding for early procurement and detailed engineering for further growth of Western Australia Iron Ore business, which is run as a joint venture with leading mining company, BHP Billiton (Australia & UK).
The pre sanction funding is expected to total US$1.93 billion, with the ITOCHU and Mitsui share at approximately US$200 million. (ITOCHU = approx. US$107 million, Mitsui = approx. US$93 million).
The operations have been moving forward with a phased expansion plan called Rapid Growth Projects ("RGP"), and construction work is currently underway to raise the installed capacity to 205 million tonnes per annum ("mtpa") within the 2011 calendar year, primarily based on increased production at the Yandi mine (RGP5). This decision is aimed at implementing a part of RGP6 – under which the expansion of the port, the rail track, and the Jimblebar mine (BHP Billiton holds a 100% share), is expected to increase installed capacity to 240 mtpa during the 2013 calendar year.
This pre sanction funding will allow early procurement of long lead time items and detailed engineering for the expansion of the port, and the rail track duplication works.
The approval for the total of the RGP6 capital will be considered during the second half of the 2010 calendar year.
ITOCHU and Mitsui together with BHP Billiton, own the three iron ore joint ventures of Mt. Newman, Yandi and Goldsworthy in Western Australia (BHP Billiton holds an 85% share, ITOCHU 8%, Mitsui 7%). Shipments totaling approximately 129 million tons were made in the 2009 calendar year by the three joint ventures, primarily to Asia.
ITOCHU and Mitsui will seek to increase the supply capacity of iron ore through the Western Australia iron ore operations, in response to the expected increase in demand worldwide over the medium and long terms.
Profile of BHP Billiton
Established

June 30th 2001

A leading mining company established as a result of the merger of Australia's Broken Hill Proprietary Company (BHP), which focused on iron ore, coal, oil, natural gas, etc., and the UK's Billiton (with a Dutch and South African background) which focused on aluminum, nonferrous, coal, etc.
Head Office

Melbourne, Australia

A dual-listed company in Sydney and London. Also listed on the markets in Johannesburg (South Africa) and New York.
Recent Performance

Full year ending June 2009 (July 2008 – June 2009):

Revenue: US $50,211 million (Approximately \4.5 trillion)

Earnings after tax: US $10,722 million (Approximately \1.0 trillion)
Location of the project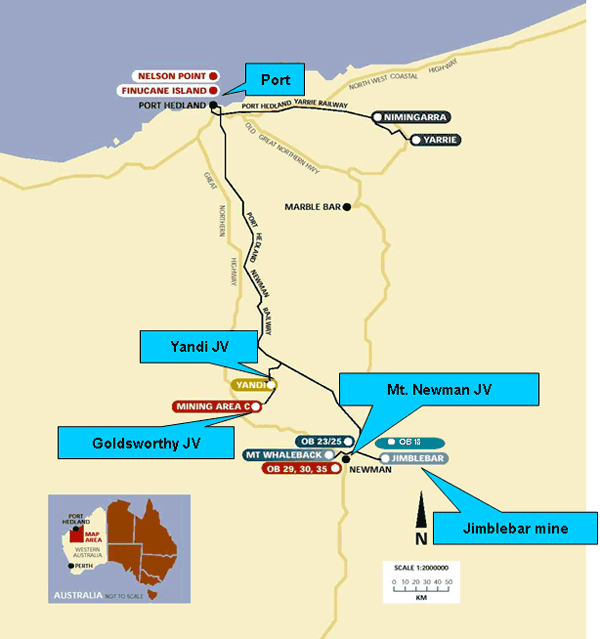 ---