Plan for Ningbo Mall (Tentative Name) to Be Executed First Outlet in Ningbo City, Zhejiang Province, China
-Scheduled to Open in Spring 2011-
March 11, 2010
ITOCHU Corporation is pleased to announce that Shanjing Real Estate Development (Ningbo) Co., Ltd. (funded by Shanshan Group Co., Ltd., Mitsui Fudosan Co., Ltd., Daito Woolen Spinning & Weaving Co., Ltd., Lanway Investment Co., Ltd, and ITOCHU Corporation) has decided to develop a shopping mall in Ningbo City, Zhejiang Province, China. Construction is scheduled to start in April 2010 and the opening of the first phase is slated for the spring of 2011. This will be the first shopping mall in Ningbo City.
Adjacent to Shanghai, the largest economic city in China, and Jiangsu Province, Zhejiang Province has been one of the most remarkable economic growth stories in the nations. Ningbo is a major city in Zhejiang Province and a trading base that takes advantage of the convenience of marine traffic. It also boasts a concentration of many spinning- and apparel-related companies.
The planned location for the mall is about 10km west of the center of the city of Ningbo, neighboring an expressway interchange, giving it excellent access not only to downtown Ningbo but also to the surrounding areas. With the rapid development of housing and hotels in the surrounding district in recent years, the area is likely to undergo a further transformation.
On a site of approx. 116,480m2, the mall is expected to be home to roughly 100 stores with an overall floor area of 16,964 m2 in Phase I, expanding to a floor area to approx. 26,674 m2 and about 160 stores in total in Phase II. The facilities are to be constructed as a two-story open mall to provide a liberating and comfortable space.

Among the tenants, popular brands in China, Japanese brands and other international brands in ladies/men's fashion, kids, sports & outdoor, sundries etc. and other retailers will be invited. Meanwhile, construction of a food court and other facilities is being considered to respond to customer trend and needs in China.

Overview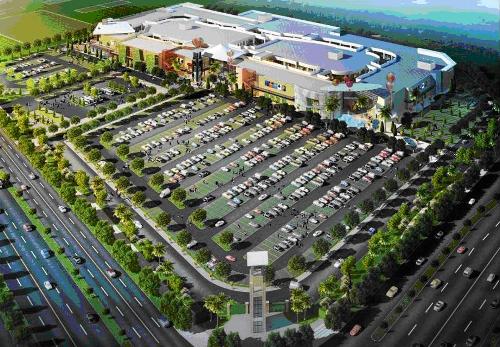 ---