Four Companies in the UNY and ITOCHU Groups Release New Product for the Joint Karada Smile Project
April 6, 2010
ITOCHU Corporation, UNY Co., Ltd. (headquartered in Inazawa, Aichi Prefecture; Tetsuro Maemura, President), Circle K Sunkus Co., Ltd (headquartered in Chuo Ward, Tokyo; Motohiko Nakamura, President) and FamilyMart Co., Ltd. (headquartered in Toshima Ward, Tokyo; Junji Ueda, President and Representative Director) are pleased to announce the release of a new product, a 194kcal Danish pastry named "Pain au Chocolat" (\100 including tax) on Tuesday, April 13, as part of the Karada Smile Project. The Karada Smile Project has been jointly planned, developed and promoted by the four companies.
The companies developed the Karada Smile Project to meet the needs created by today's growing health awareness, and with the goal of providing products that contribute to customer health. In January 2008, the four companies jointly released "Flavorful Bread Rich in Fiber and Low in Calories," with as little as 200kcal per serving. This groundbreaking product has won over many customers.
In October 2009, the companies have made advances in research and development to improve the bread dough, using a different type and blend of dietary fiber while keeping calories low. The renewed product is even better positioned to meet customers' needs. The companies will also give customers more opportunities to try the bread for themselves, through in-store campaigns and media promotions.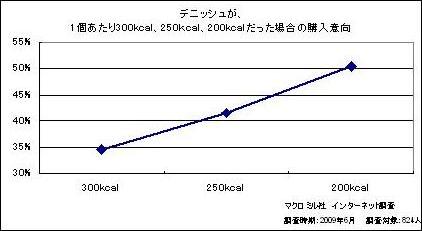 The new product the Karada Smile Project announces today is a
Danish pastry, which is very popular with women in particular
but tends to be avoided for its high calories. According to a
questionnaire (chart at right), the lower the calorie content,
the more willing people will be to buy a Danish pastry.
Nevertheless, it was difficult to reduce the calorie content while
retaining the delicious taste and flavor of the dough, and the
layers and volume specific to Danish pastry.
The Karada Smile Project reviewed the manufacturing process and changed the ingredients as follows:
We are using a newly developed margarine. With this margarine we can get the same layer appearance and final volume while using less compared to the previous margarine.
We made changes to the mixed flour formula. The purpose was to give the final product a more strong structure and shorter/easier bite.
As a result of these changes, the project has succeeded in developing an innovative Danish pastry that contains 194kcal and 3.2g of dietary fiber, while retaining the flaky texture and delicious taste.
The UNY Group and the ITOCHU Group will continue to advance the Karada Smile Project and offer products and services of value to their customers. The companies plan to release a Melon Pan in June and look forward to providing future news from the Karada Smile Project.

Danish pastry "Pain au Chocolat"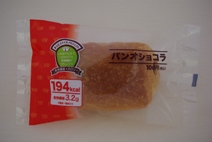 [1] Product highlight
Improved the ingredients and succeeded in making a 194kcal Danish pastry
while retaining the dietary fiber content and flaky texture.
[2] Stores (As of the end of February 2010)
APITA & PIAGO (all stores selling food items) 223 stores total
Circle K Sunkus (all stores excluding Hokkaido) 6,025 stores total
FamilyMart (all stores excluding Hokkaido, Nagasaki, some areas in Saga, Miyazaki, Kagoshima and Okinawa) 7,042 stores total
[3] Release date & retail price
Release date: Tuesday, April 13, 2010
Retail price: 100 yen (tax included)
---