ITOCHU Enters into Capital and Business Alliance with Composites Unlimited Inc.
May 17, 2010
ITOCHU Corporation (headquartered in Minato-ku, Tokyo; Masahiro Okafuji, President; hereinafter "ITOCHU") has formed a business alliance with Composites Unlimited Inc. (headquartered in California, USA; Joe Gerber, President; hereinafter "CUI"), an aircraft cabin interior component manufacturer, in selling its products including aircraft galley equipment. Under the agreement, ITOCHU has acquired a 19.0% share in CUI and has become the second largest shareholder of CUI.
CUI is a mid-sized aircraft interior component manufacturer serving the commercial airplane market. CUI is a leader in designing and manufacturing aircraft interior components made of composite panels and is producing galley systems, closets and class dividers for more than 50 airlines throughout the world. In particular, CUI is the manufacturer of the complete Boeing 737-700 Southwest Airlines galley system with over 350 Southwest Airlines aircraft with CUI's galleys in service.
ITOCHU is the major shareholder of JAMCO Corporation (headquartered in Mitaka, Tokyo; Osamu Terada, President), an aircraft cabin interior component manufacturer and aircraft maintenance service provider. ITOCHU identifies the aircraft interior business as one of the key business areas and it aims to strengthen its role in the growing aircraft cabin interior market by leveraging its global network around the world.

About Composites Unlimited Inc.
| | |
| --- | --- |
| Company Name | Composites Unlimited Inc. |
| Representative | Joe Gerber, President |
| Address | 16452 Construction South, Irvine, CA 92606 USA |
| Established | 1971 |
| URL | http://www.compositesunlimited.com/ |
CUI galley system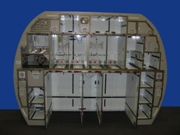 ---