Notice Regarding the Release of New and Improved Products as part of the Karada Smile Project - A Collaboration of Four Companies from the UNY and ITOCHU Groups
June 3, 2010
ITOCHU Corporation (headquartered in Minato-ku, Tokyo; Masahiro Okafuji, President and CEO), UNY Co., Ltd. (headquartered in Inazawa, Aichi Prefecture; Tetsuro Maemura, President), Circle K Sunkus Co., Ltd (headquartered in Chuo Ward, Tokyo; Motohiko Nakamura, President), and FamilyMart Co., Ltd. (headquartered in Toshima Ward, Tokyo; Junji Ueda, President and Representative Director) are pleased to announce the release of Melon Pan with 199kcal per serving (price including tax: 100 yen) on Tuesday, June 8 as part of the Karada Smile Project.
The Karada Smile Project is a joint project supported by the above four companies that focuses on the increasing needs and awareness of customers with regard to their health, and which aims to offer products that contribute to customer health.
In January 2008, the four companies jointly released Tasty Fiber-Rich, Low-Calorie Bread, which has been well received by a large number of customers as a ground-breaking bread that has good flavor and contains dietary fiber, while at the same time limiting the calorie content to around 200 kcal per serving.
Last October, the improved version of the product using enhanced dough was released to more closely meet customer needs, as a result of further research into changing the types and blends of dietary fiber while maintaining the reduced number of calories.
Next, the four companies began trying to reduce the calorie content of products that are generally known to have a high number of calories. In April this year, Danish pastry, which was popular among women but whose calorie content was deemed difficult to reduce, was released with the same flavor and volume, but with only 194 kcal per serving.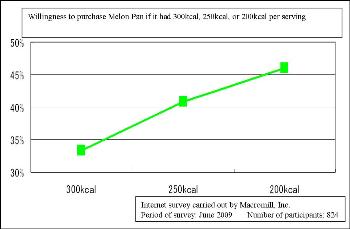 The latest release is Melon Pan, which has always ranked high in terms of popularity. The development of reduced-calorie Melon Pan was considered difficult because of the high calorie content of the ingredients. The results of the questionnaire (figure on the right) indicate that customers would be more likely to purchase Melon Pan if it had fewer calories. However, it was extremely difficult to incorporate dietary fiber into reduced-calorie dough, and also to reduce the calorie content of the biscuit dough while retaining its flavor.

The Project resulted in the successful development of Melon Pan with 199 kcal and 5.3g of dietary fiber per serving, with the fat and granulated sugar content reduced as much as possible while retaining the rich flavor. We are now making the new Melon Pan available for those who love Melon Pan but are concerned about their calorie intake.

In addition, Karada Smile Project is pleased to announce the release of improved Yogurt with Extra Dietary Fiber on Tuesday, June 15. Since its initial release in October last year, the product has enjoyed wide popularity as a yogurt product that contains ample dietary fiber while retaining the flavor of yogurt. The improved product contains 9.0g of dietary fiber, enabling customers to consume half their recommended daily intake of dietary fiber in one serving (as per the recommendations of the Dietary Intake Standards 2010 for Japanese People). With a fat content of 0% and 53kcal per serving, we are confident that this product will meet a wide range of customer needs.

The UNY Group and the ITOCHU Group will continue to advance the Karada Smile Project and offer products and services of value to their customers.

Melon Pan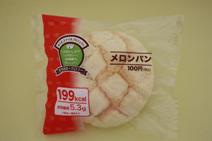 Product features

Low-calorie bread dough containing dietary fiber and biscuit dough with reduced fat and granulated sugar while retaining the flavor were utilized to achieve a calorie content of 199 kcal per serving.

Date of release and retail price

Date of release: Tuesday, June 8, 2010
Retail price: 100 yen (including tax)

Planned stockists (as of the end of April 2010)

Apita Piago (all stores that stock food) 224 stores in total
Circle K Sunkus (all stores except those in Hokkaido)  6,022 stores in total
Family Mart (all stores except those in Hokkaido, Nagasaki, part of Saga, Miyazaki, Kagoshima, and Okinawa Prefectures) 7,058 stores in total
Yogurt with Ample Dietary Fiber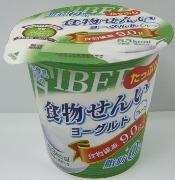 Product features

Contains 9.0g of dietary fiber per cup, providing as much as half the recommended daily intake. (According to the estimated average daily requirement specified in the Dietary Reference Intakes for Japanese (2010 Edition))
Zero-percent fat and 53kcal per cup

Date of release and retail price

Date of release: Tuesday, June 15, 2010
Retail price: 108 yen (including tax)

Planned stockists (as of the end of April 2010)

Apita Piago (all stores that stock food) 224 stores in total
Circle K Sunkus (all stores) 6,216 stores in total
Family Mart (all stores)  7,704 stores in total
---