Launch of Cloud Computing Business for Markets in Japan and Asia
-Cloud services in Japan, Europe and the United States to expand into the Japanese and Asian market-
June 21, 2010
ITOCHU Corporation (headquartered in Minato-ku, Tokyo; President and CEO: Masahiro Okafuji; "ITOCHU") announces the start of its cloud computing services (*1) business in Japan and other Asian markets.
In today's IT services market, with U.S. companies playing a leading role, corporate demand has shifted rapidly from ownership of in-house systems to use of cloud computing/SaaS (*2). In Japan also, market expansion is expected for cloud computing services; from 140.6 billion yen in 2009 to 743.8 billion yen by 2015. (*3) The IT services market scale in the Asian region, centered on India, China and Singapore, was 13 trillion yen as of 2009, with significant growth anticipated.
Cloud computing and related services have entered into wide usage all over the world and in July 2010, ITOCHU will begin offering them to companies in Japan. Services will then be expanded to cover China, Singapore and other parts of Asia. The service (distribution platform) (*4) equipped with functions of customer, credit and contract management, charging and collection, billing and agency management, localization (*5), and customer support will be configured, and services will be offered in Japan and Asia via partnerships with system integrators and other parties. From July 2010, about 10 types of services used in the Western countries will be offered to companies in Japan, and the number of available services will subsequently expand along with the area of coverage in Asia.
ITOCHU sees configuration of the service platform as the starting point of its full-fledged cloud computing services business. Utilizing domestic and overseas networks, ITOCHU aims at sales of 10 billion yen in 2015 in Japan and Asia.

Cloud computing services
Computer usage based on networks, particularly the Internet; with computer processing for users handled via such networks
Software as a Service (SaaS)
Computer software (mainly application software) or a form of software service that allows only needed functions to be accessed for only the necessary quantity; in general, functions are used via the Internet in a single-system multi-tenant configuration.
Source: Yano Research Institute Ltd.: Cloud Computing Market 2010
Service platform (distribution platform)
Uses SaaSplats System by Bplats Inc. (headquarters: 4F, COI Uchikanda Building, 3-2-8 Uchikanda, Chiyoda-ku Tokyo; CEO: Kenji Fujita)
Localization
Dealing with overseas services, software, software packages, manuals, websites and other items in Japanese and Chinese, account settlement in local currencies in Japan and China, etc.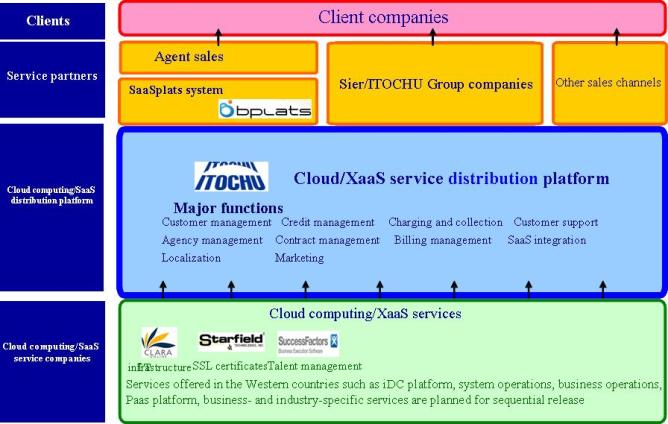 ---