ITOCHU agrees to acquire 10% in Extract Resources Limited
July 9, 2010
ITOCHU Corporation ("ITOCHU") has agreed to acquire a 10.3% stake in Extract Resources Limited ("Extract") through its wholly-owned Australian subsidiary, Nippon Uranium Resources (Australia) Pty Ltd. The acquisition is subject only to requisite approvals by shareholders of the vendor of the majority of the shares, Polo Resources Limited, and to Australian Foreign Investment Review Board ("FIRB") approval being obtained for the acquisition of certain of the Extract shares. Assuming satisfaction of the conditions, upon completion of the acquisition, ITOCHU would become one of the largest shareholders of Extract.
Extract owns 100% of the Husab (Rossing South) Uranium Project in the Republic of Namibia. Husab is expected to become one of the leading uranium mines in the world, and is currently under a feasibility study for first production in 2013 or 2014.
In May 2010, with financial support from Japan Oil, Gas and Metals National Corporation (JOGMEC), ITOCHU acquired a 14.9% stake in Kalahari Minerals plc, whose main investment is a 41% interest in Extract. As a significant shareholder of leading uranium companies, ITOCHU envisions contributing greatly to the stable supply of uranium to Japan.
Uranium demand is expected to increase due to the necessity of greenhouse gas emission reduction and the expansion of global nuclear power generation. ITOCHU, delivering approximately 4,000 tU of uranium per year (as of 2009), will remain committed to an aggressive approach in its uranium business as a leading uranium trader in the world.
This project is one of the largest uranium projects in the world, and is expected to receive full support from the Japanese government.

Extract Resources Limited
Director
Jonathan Leslie, Managing Director & CEO
Address
Perth, Western Australia
Market

Australian Stock Exchange, Toronto Stock Exchange,

Namibian Stock Exchange
URL
http://www.extractresources.com/
Rossing South (Source: Extract)
| | |
| --- | --- |
| Address | Midwest of Republic of Namibia |
| Interests  | Extract 100% |
| Recourses | 267 MMlbs (Approximately 102,700tU) |
| Production | 14.8 MMlbs/year (Approximately 5,700tU/year) |
Map of Rossing South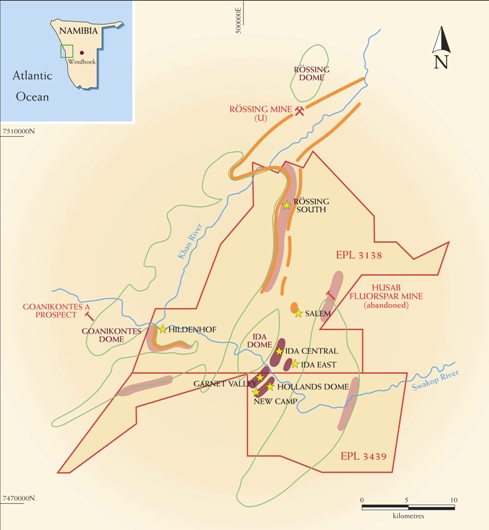 ---