New Development with Italian Premium Sports and Lifestyle Brand Lotto
August 9, 2010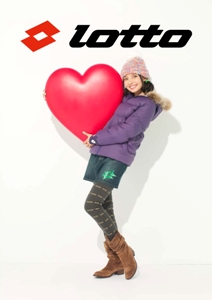 ITOCHU Corporation (headquartered in Minato-ku, Tokyo; Masahiro Okafuji, President & CEO; hereinafter "ITOCHU") is increasing to 15 the number of items it handles from Italian premium sports and lifestyle brand Lotto and beginning comprehensive market development in the 2010 fall/winter season, for which trial development began in spring/summer.
The 15 apparel items include ladies' and men's casual and golf wear, children's casual wear, along with home wear, underwear, innerwear, school active wear and accessories including bags, belts, socks, gloves, eyewear and sunglasses. Planned sales channels include general merchandise, casual wear, sporting goods and eyewear stores, and catalog and internet sales.

With a sublicensing agreement with Caitac International, Inc., particular efforts will be made in men's casual wear, which is already on sale, as well as the core products of ladies' casual and golf wear.
Inspired by the development of the world's first laceless soccer shoes by Italy's Lotto Sport Italia S.p.A., which gave the world proof of Lotto's corporate policies, the company will release true and simple ladies' casual wear and golf wear built by focusing on the concept of "less," in which discarding of unnecessary things reveals the true quality. Healthy and active lifestyles will be promoted, with the core target as 25-year-old women, who emphasize enjoying their life in the moment, stress individuality in what they choose and value the feeling of owning one-of-a-kind, special products. Sales channels include online and mail order, and casual wear and sporting goods stores. Retail prices range from 5,900-9,800 yen for casual long hoodies, 3,900-6,900 yen for long-sleeve T-shirts, 4,900-6,900 yen for ladies' golf polo shirts and 3,900-4,900 yen for layered innerwear.

In view of women's increasingly active lifestyles, emphasis will be placed on the changing women's product market. Leading female celebrity Becky has been chosen as the spokesmodel to appear in sales promotions starting in the 2010 fall/winter season, aimed at increasing awareness and market penetration.
Development of men's golf wear and compression wear will begin in the 2011 spring/summer season, under a sublicensing agreement with Caitac Family, Inc. Planned retail prices range from 5,900-6,900 yen for polo shirts, 7,900 yen for short-sleeve hoodies and 2,900 yen for compression wear, all of which will be sold at sporting goods and other stores.
ITOCHU will also promote both ladies' and men's golf wear by Lotto.

About the Lotto brand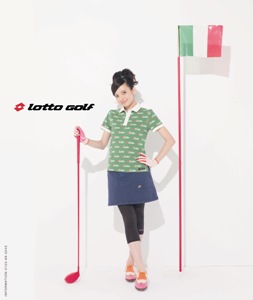 Lotto was established in 1973 in Montebelluna in northern Italy's Treviso province, as a shoe manufacturer specializing in soccer shoes. The company's development of the world's first and only laceless soccer shoe gave the world evidence of its corporate policy of advocating relentless pursuit of functionality and design innovation. The trademark "Double Diamond" is widely recognized as a symbol of the highest quality products.
In recent years, Lotto's scope of business has expanded to encompass casual and lifestyle items, in addition to sports products for soccer and tennis. The company has strengthened its global strategy, with products being sold in more than 80 countries in Europe, North America, South America, Asia, Oceania and Africa, and a global market scale said to exceed 90 billion yen.
At the end of last year, ITOCHU concluded a licensing agreement and import and sales agreement in the Japanese market with Lotto Sport Italia S.p.A. (Italy) for all items other than shoes and athletic products.

Sublicensees and items on sale
Caitac International, Inc.
Ladies' golf wear and casual wear
Long hoodies, long T-shirts: ¥5,900-9,800 / ¥3,900-6,900
Polo shirts, layered innerwear: ¥4,900-6,900 / ¥3,900-4,900
Caitac Family, Inc.
Men's casual wear, home wear, inner- and underwear, men's golf wear (polo shirts, t-shirts, pants, windbreakers, rainwear, vests), compression wear
T-shirts, polo shirts, outer wear, sweatshirts, jersey suits: ¥1,000-9,900
Pajamas, relaxation wear: ¥2,900-3,900
Inner- and underwear: ¥780-980
Men's golf wear: ¥4,900-7,900
Compression wear: ¥2,900
Saiki Co.,Ltd.
Children's casual wear
T-shirts, sweatshirts, outerwear: \1,000-4,900
Monolife Co.,Ltd.
Bags
Tote bags, daypacks, and others: \1,980-5,800
Toake Co.,Ltd.
Belts
Men's casual: ¥1,900 / Ladies': ¥1,900/ Children's: ¥1,500
Sunreeve Co., Ltd.
Glasses, sunglasses
Glass frames: \15,000-18,000 (retail prices for frames only, for reference)
Yorks Co., Ltd.
Gloves
Ladies' gloves: ¥2,100 / Men's gloves: ¥2,100
Takimoto Co., Ltd.
School gym suits
Gym wear sets: ¥2,000-8,000
Tokyo Inner Wear Section, Fabric & Apparel Department, ITOCHU Corporation.
Socks, leggings
Socks: ¥980 for three pairs and others / Leggings: ¥1,280-1,480
Sun Art Corporation
Leather goods
To be on sale starting in the 2011 spring/summer season

---