ITOCHU Forms Alliance with Osaka Gas to Develop Energy Management Services Business
August 25, 2010
ITOCHU Corporation (headquartered in Minato-ku, Tokyo; Masahiro Okafuji, President & CEO; hereinafter "ITOCHU") and Osaka Gas Co., Ltd. (headquartered in Osaka; Hiroshi Ozaki, President; hereinafter "Osaka Gas") have agreed to an alliance aimed at building and expanding computer-aided Energy Management Services (hereinafter "EMS") business.
EMS use computer-aided tools to monitor the energy consumption (electricity, gas and other utilities) of manufacturing plants, office buildings or stores, and to propose business solutions to manage and reduce energy consumption and achieve energy savings. With growing awareness of renewed efforts to reduce CO2 emissions worldwide and the enactment of the energy-saving legislative amendment, individual enterprises are obliged to report to the government on their energy consumption and submit an energy saving strategic plan. In light of this and other factors, it is estimated that the domestic market for EMS services will be worth around ¥123 billion in FY2014, growing from ¥33 billion in FY2009(*1).
ITOCHU has now developed ecoFORTE, a cloud type (*2) energy saving support service for the preparation of official documents and energy management, which it began marketing throughout Japan to large-scale office buildings, manufacturing plants, universities, large retailers and other enterprises in October 2009. ITOCHU is also using software development technology and telecommunication technology built up in its ICT business to develop more sophisticated center systems capable of offering wholly integrated EMS, covering the measurement and control of air-conditioning, lighting and ICT equipment power consumption and the proposal of energy-saving solutions.
Meanwhile, the Osaka Gas Group has developed Motto Save, a cloud type energy saving support service which makes it possible to measure the energy consumption of an entire building and control air-conditioning and lighting equipment easily. The Group has been selling the service mainly to universities, manufacturing plants and hospitals in the Kansai District since June 2007. Because this product is built from open-source software and products, it can be customized easily and data can be exchanged with other companies' systems. Currently Osaka Gas is combining the features of this system with the energy management expertise of the Osaka Gas Group to offer energy-saving solutions, and is also working on the development of center systems compatible with a wider range of energy equipment and control functions.
 
As a result of the alliance, ITOCHU will share its ICT business expertise including its software development and telecommunications technology with Osaka Gas, and Osaka Gas will share its expertise in the measurement and control of air-conditioning systems and other equipment with ITOCHU, thereby improving and accelerating the development of extendible cloud-type center systems that can be adapted to suit diverse customer equipment and energy-saving requirements. In the future, the two companies will work together to build and expand the EMS business base, keeping in mind the possibility of brand integration.

*1

Source
Current Status and Outlook of the Computer-Aided Energy Management System Solutions Market, FY2009 Edition (Mic Research Institute Ltd)

*2

Cloud type
Internet services or related technologies that enable users to access applications and web-based tools using a web browser. Users can access hardware and software resources without their having to know where those resources are or how they are configured.
Illustration of Cloud-Type EMS Center System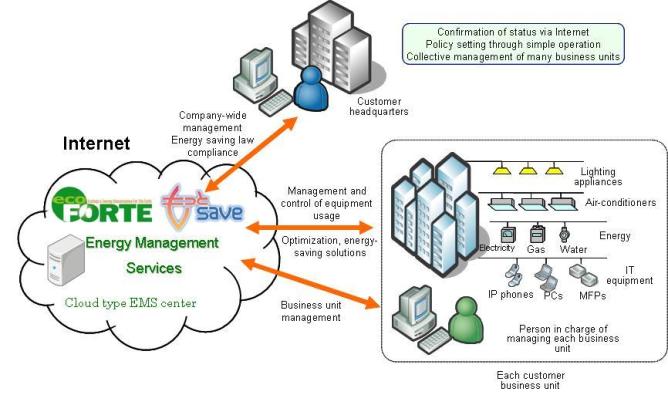 ---