Expansion of LPG Plant in Algeria Completed
-Expansion creates the world's largest LPG plant-
August 30, 2010
ITOCHU Corporation (headquartered in Minato-ku, Tokyo; Masahiro Okafuji, President & CEO; hereinafter "ITOCHU") and IHI Corporation ("IHI") have completed the construction jointly awarded in 2007 by Sonatrach, the state-run Algerian hydrocarbon corporation, to expand a plant that produces liquefied petroleum gas (LPG), with an additional annual production capacity of 3 million tons (the third-phase expansion).
Worth approximately 120 billion yen, the contract is concluded on EPC full-turnkey basis, involving work that included engineering(E), procurement(P), construction(C), transportation, civil work, installation, and commissioning. This major project entailed spherical tanks (six, each holding 1,000 cubic meters) for the storage of LPG feedstock produced in the gas fields of southern Algeria, separation and liquefaction trains for propane and butane (three, each with an annual production capacity of 1 million tons), tanks for the product propane and butane (two, each holding 70,000 cubic meters), and other incidental facilities.
The construction site was at GP1Z, the Sonatrach LPG plant, located in the Arzew industrial zone in western Algeria. Annual production capacity came to 4 million tons in 1984, when the first-phase construction was completed, and was increased by 2 million tons following the second phase expansion in 1998. The completion of this latest third-phase expansion has boosted annual production capacity by an additional 3 million tons. This takes annual capacity to 9 million tons, making GP1Z the largest LPG plant in the world. ITOCHU and IHI have handled all previous work from the first-phase construction of the plant.
ITOCHU and IHI have a long record of construction in Algeria, extending back some years. Recent activities may be exemplified by the construction of the country's first seawater desalination and power generation plant, which was completed in 2006. In addition, they completed the construction of four boilers for LNG plant in 2007 and the rehabilitation of an aging LPG plant (GP2Z) in 2008.
To strengthen and expand their long and excellent relationship with Sonatrach, ITOCHU and IHI will not only handle the maintenance and renovation of existing plants by bolstering their operating facilities, but will also actively participate in projects being planned by Sonatrach, including a liquefaction refinery project and a project to develop the production facilities of petrochemical products. With this involvement, the two companies look forward to continuing to contribute to the development of Algeria's economic foundation.
Project Outline
Customer: Sonatrach (state-run Algerian hydrocarbon corporation)
Location: Arzew industrial zone, Oran Province, Algeria (400 km west of Algiers, capital of Algeria)
Products and capacity: Production of propane and butane for use as fuel; annual production capacity of 3 million tons
GP1Z, the Sonatrach LPG plant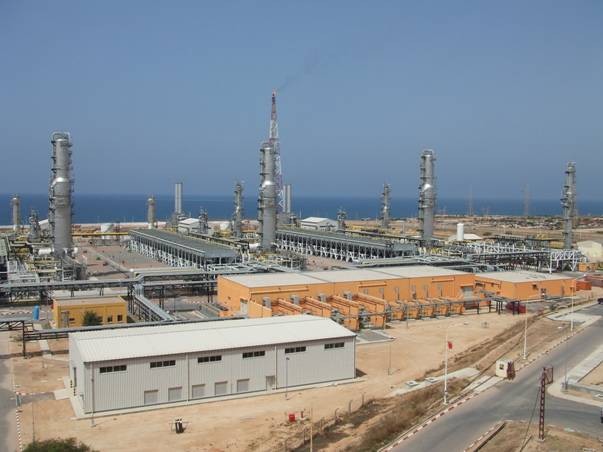 ---