ITOCHU Acquires Sales Representative Rights for SaaS-Type Budgeting and Performance Forecasting Management System
September 6, 2010
ITOCHU Corporation (headquartered in Minato-ku, Tokyo; Masahiro Okafuji, President & CEO; hereinafter "ITOCHU") has become the first Japanese company to execute a sales representative agreement with Adaptive Planning K.K. (headquartered in Minato-ku, Tokyo; Takahiko Higashi, representative director; hereinafter "Adaptive Planning"), the Japanese subsidiary of Adaptive Planning Inc. (headquartered in California in the United States; William A. Soward, CEO) to embark on the sale of Adaptive Planning, a SaaS*1-type budgeting and performance forecasting management system supplied from Adaptive Planning.
 
Recent years have brought growing demand for budget management solutions with high speed, high accuracy and low cost features. For instance, 70% of midsize companies in Japan are faced with problems about time-consuming business processing and errors, and with difficulties in achieving consistency in collaborative operations as they use spreadsheet applications for budgetary management purposes.
 
Adaptive Planning is a SaaS-type budgeting and business forecasting management solution that can be introduced and operated at low cost and that eases the workload in budgetary management. It enables user customization and performs central control of all data processed by multiple users at a time. When any users carry out customization during the work process, it automatically organizes the results of the operations performed by the user and others to ensure speed and accuracy in collaborative work. It takes 12 days on average to introduce this system, but this period is much shorter than in the case of introducing a business intelligence solution*2 for large companies. Adaptive Planning has been marketed chiefly in the United States since 2003 and now has over 800 corporate customers worldwide in over 25 countries. In Japan, Adaptive Planning released the Japanese version of Adaptive Planning 6.5 in December 2009, followed by the launch of its latest version, Adaptive Planning 7, in August 2010.
ITOCHU set up a cloud portal website called Cloud Gateway in August 2010 in an effort to start dealing in cloud services that are helpful in increasing managerial and operational efficiency. The recent acquisition of the sales representative rights allows ITOCHU to offer SaaS solutions for budgeting and performance forecasting management requisite to all businesses. Taking advantage of its partnerships with group firms and other networks that it possesses as a general trading company, ITOCHU will continue its efforts to expand cloud services.

SaaS (Software as a Service)
A type of service in which application software based on a common program is owned and managed by an outside provider, not by end users, and provided via a network in a one-to-many model
Business Intelligence Solution
A concept according to which massive data based on facts inside and outside a company are systematically accumulated, sorted, analyzed and processed to support swift business decision-making, or a mechanism or activity for realizing this concept or a system or tool that supports the activity
About Adaptive Planning, Inc. and Adaptive Planning K.K.
The two companies offer SaaS-type solutions for budgeting, performance forecasting management and reporting to help improve operational efficiency, cooperation across an entire organization, and decision making in businesses of different scales. Going beyond the framework of a spreadsheet, Adaptive Planning is a cost-competitive software solution that encompasses budgeting, performance forecasting management, automated reporting and analysis of hypothetical scenarios without recourse to conventional business intelligence or business process management, which is a management approach based on a continuing cycle of improvement consisting of visualization of operations, process development, monitoring and assessment of results.
| | |
| --- | --- |
| Corporate Name | Adaptive Planning, Inc. |
| Representative | William A. Soward |
| Head Office | 2041 Landings Drive Mountain View, CA 94043, USA |
| Established | January 2003 |
| Capital | US$ 30+ million |
| Number of Employees | 65 |
| Website | http://www.adaptiveplanning.com/company/ |
| | |
| --- | --- |
| Corporate Name | Adaptive Planning K.K. |
| Representative | Takahiko Higashi |
| Head Office | Akasaka 1-chome Mori Building, 1-11-28 Akasaka, Minato-ku, Tokyo |
| Established | February 2010 |
| Website | http://www.adaptiveplanning.co.jp/index.php |
Examples of User Screens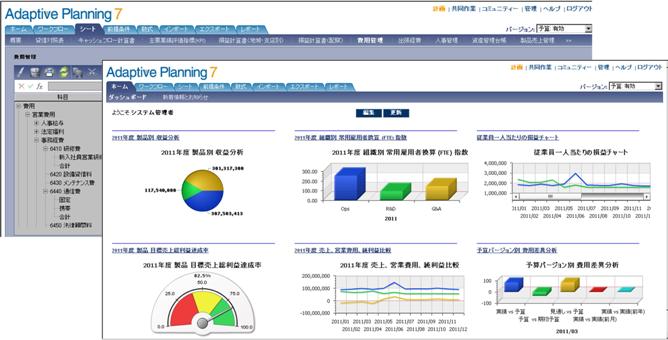 ---