Joint Deployment of Energy Management Services Business with Cisco
-From Building Facilities to IT Equipment: Realization of Total Monitoring and Management-
October 4, 2010
ITOCHU Corporation (headquartered in Minato-ku, Tokyo; Masahiro Okafuji, President & CEO; hereinafter "ITOCHU") and Cisco Systems G.K.(headquartered in Minato-ku, Tokyo; Yasufumi Hirai, President & General Manger; hereinafter "Cisco") have agreed to jointly develop computer-aided Energy Management Services (hereinafter "EMS") business.
EMS use computer-aided tools to monitor the energy consumption (electricity, gas and other utilities) of manufacturing plants, office buildings or stores, and to propose business solutions to manage and reduce energy consumption and achieve energy savings. Awareness of renewed efforts to reduce CO2 emissions has been growing worldwide, and with the enactment of the energy-saving legislative amendment, individual enterprises are obliged to report to the government on their energy consumption and submit an energy saving strategic plan. In light of these factors, it is estimated that the domestic market for EMS business will be worth around ¥123 billion in FY2014, growing from ¥33 billion in FY2009(*1).
ITOCHU has developed ecoFORTE, a cloud type (*2) energy saving support service for the preparation of official documents and energy management, which it began marketing throughout Japan to large-scale office buildings, manufacturing plants, universities, large retailers and other enterprises in October 2009. ITOCHU is also using software development technology and telecommunication technology built up in its IT business to develop more sophisticated center systems capable of offering wholly integrated EMS, covering the measurement and control of air-conditioning, lighting and IT equipment power consumption and the proposal of energy-saving solutions.
Cisco advocates Smart+Connected Communities. These are communities that use ICT (Information and Communication Technology) to coordinate the community infrastructure of real estate, education, healthcare, energy, transportation, emergency services, etc. and give them new worth. In 2008, to increase the real estate value of buildings and land, Cisco started its Connected Real Estate business in Japan. Cisco provides solutions for improving the productivity and safety of office buildings, reducing the cost of building construction and maintenance, and for dealing with environmental issues.
Utilizing the strengths of both ITOCHU and Cisco, we will jointly develop and market the ecoFORTE-CRE solution which combines ecoFORTE and Cisco technology. ecoFORTE-CRE is a solution that automatically reduces energy consumption at multiple locations via a Cisco router with ecoFORTE's remote control system loaded onboard. ecoFORTE measures and analyzes the energy usage at company locations, which allows for proposals for energy-saving measures to be implemented at multiple locations through the Cisco router. We will also be combining ecoFORTE with Cisco's EnergyWise technology for automatically controlling power for PCs, wireless devices and multifunction machines, to enable a reduction in power usage of IT equipment.
As a result of this cooperation, ITOCHU and Cisco will be able to provide extensive EMS that cover an entire building to individual IT equipment. As well as responding to the specific individual cost-saving and energy-saving needs of each corporation, we are promoting the diffusion of an environmentally friendly energy-saving service that facilitates the building of a low-carbon society.

Source
Current Status and Outlook of the Computer-Aided Energy Management System Solutions Market, 2010 Edition (MIC Research Institute Ltd.)
Cloud type
Internet services or related technologies that enable users to access applications and web-based tools using a web browser. Users can access hardware and software resources without their having to know where those resources are or how they are configured.
Illustration of the ecoFORTE-CRE service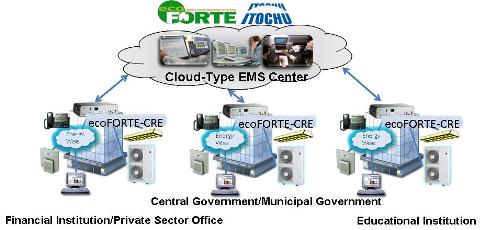 ---