IMEA acquires an interest in the Mauls Creek Coal Project of Aston Resources Limited of Australia
December 8, 2010
ITOCHU Minerals & Energy of Australia Pty Ltd (hereinafter "IMEA"), a subsidiary of ITOCHU Corporation (headquartered in Minato-ku, Tokyo; Masahiro Okafuji, President & CEO; hereinafter "ITOCHU"), and Aston Resources Limited (headquartered in Brisbane, Australia; Todd Hannigan, Representative; hereinafter "Aston") have agreed and signed on December 7th, 2010 that IMEA will acquire a 15% interest in the Maules Creek Coal Project that Aston is developing after engaged in the exclusive negotiations for 120 days as announced on August 9th, 2010.
Besides the acquisition of the 15% interest for A$345 million (28 billion yen), IMEA will also acquire an exclusive right to sell coal from the project to the Japanese market and preferred right to sell coal to the other market. In addition, IMEA and Aston have agreed to extend the exclusive negotiation agreement for six months to continue negotiations on IMEA's acquisition of additional 10% interest.
The Maules Creek Coal Project that Aston is developing in New South Wales, Australia has one of the largest minable high quality reserves in Australia. A feasibility study is currently underway. Aston plans to start to produce coal for coke making (semi-soft coking coal) and high-quality fuel coal in 2012.
In addition to expanding its trading activities, ITOCHU intends to continue to acquire coal assets to meet its target of increasing its equity interests in coal production from its current 8 million tonnes to 15 million tonnes per annum by 2015. To that end, ITOCHU intends to continue to seek opportunities to enhance its portfolio of resources interests.

Profile of Aston
| | |
| --- | --- |
| Corporate name | Aston Resources Limited |
| Representative | Todd Hannigan |
| Business | Coal resource development |
| Head office | Brisbane, Queensland |
| Established | January 2008 |
| Major shareholders | Aston Resources Investments, Wellington Management Co. LLP |
Profile of Maules Creek Mine (based on the listing prospectus of Aston)
| | |
| --- | --- |
| Location | Gunnedah, New South Wales |
| Interest rate | Aston 100% |
| Resource | About 610 million tons |
| Production volume | About 10.8 million tons per year (semi-soft coking coal and fuel coal; production planned to start in 2012) |
| Development cost | About 463 million Australian dollars |
For reference: Location of the Maules Creek coal mining area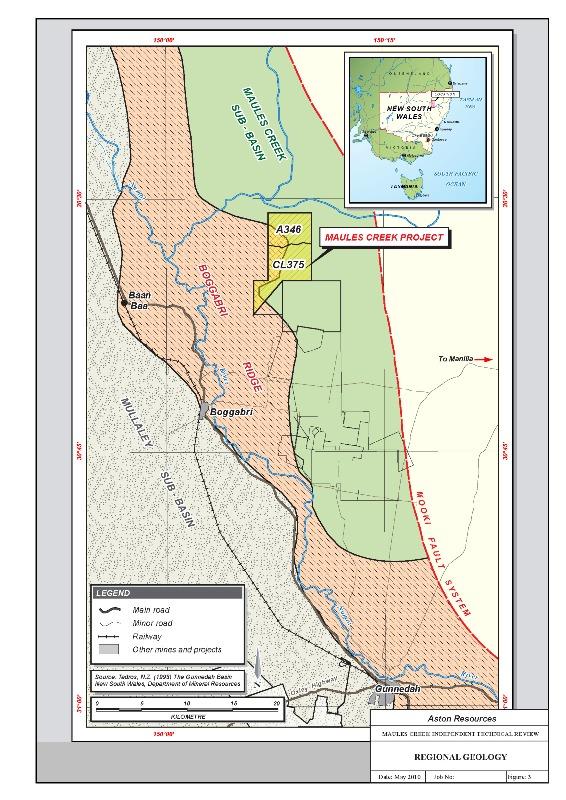 ---