IMEA APPROVES RAVESWORTH NORTH COAL PROJECT DEVELOPMENT
December 16, 2010
ITOCHU Minerals & Energy of Australia Pty Ltd (hereinafter "IMEA"), a subsidiary of ITOCHU Corporation (headquartered in Minato-ku, Tokyo; Masahiro Okafuji, President & CEO; hereinafter "ITOCHU") has approved the development of the Ravensworth North coal mine (hereinafter "Project"), which will be jointly owned by Cumnock Joint Venture where IMEA holds a 10% interest.
The Project, located in Hunter Valley Region, New South Wales, Australia, expects the commencement of the construction in early 2011, and first coal production in July 2012. The mining operation will continue over 26 years with an annual production at around 8 million tonnes of high quality thermal coal and semi soft coking coal at full production capacity. ITOCHU will conduct substantial marketing activities in its important markets especially Japan, where it holds an exclusive marketing right to sell coal from the project.
In addition to expanding its marketing activities, ITOCHU intends to continue to acquire coal assets to meet its target of increasing its equity interests in coal production from its current 8 million tonnes to 15 million tonnes per annum by 2015. To that end, ITOCHU intends to continue to seek opportunities to enhance its portfolio of resources interests.

Profile of Ravensworth North coal mine
Location
Hunter Valley region, New South Wales, Australia
Equity interest

Cumnock No.1 Colliery Pty Limited (Xstrata Coal) 90%

ICRA Cumnock Pty Limited (IMEA) 10%
Production

8 million tonnes per annum

(Semi soft coking coal and thermal coal: First coal to be expected in July 2012)
Development cost
A$1.4 billion (JV 100% basis)
For reference : Location of Ravensworth North coal mine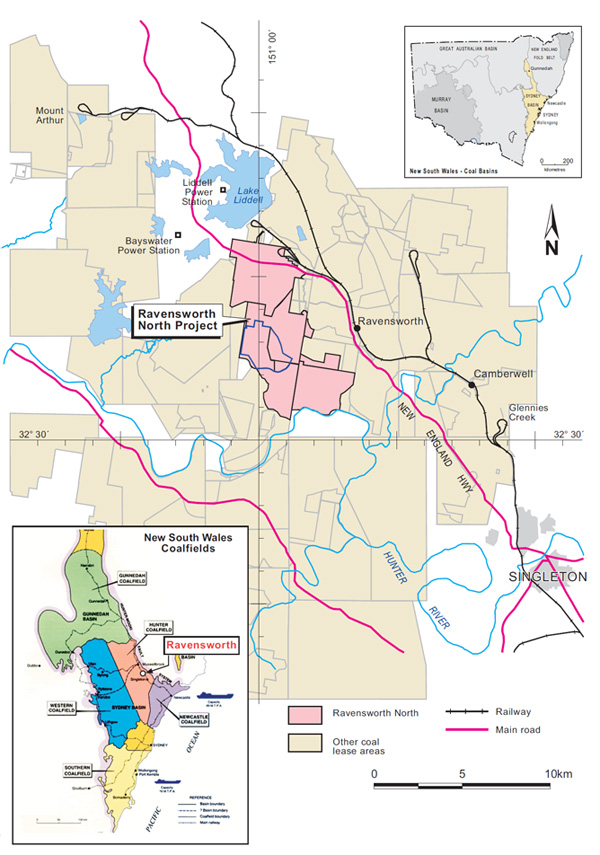 ---