Signing a Joint Venture Agreement with COALWORKS Limited
December 22, 2010
ITOCHU Minerals & Energy of Australia Pty Ltd (Australia; "IMEA"), a wholly owned subsidiary of ITOCHU Corporation (Japan; "ITOCHU"), has signed a Joint Venture Agreement with COALWORKS Limited (Australia; "COALWORKS") to develop the Vickery South coal project pursuant to the Memorandum of Understanding signed by the parties in February 2010. Prior to the JV agreement signing, IMEA contributed funding of AUD 5 million (approximately JPY 400 million) to conduct the initial exploration and, in return, acquired a 29% stake in the project.
In addition, IMEA has the right to expand its stake in the project, which currently sits at 29% (COALWORKS holds 71%), up to 49% upon the results of further exploration.
Under the JV agreement, ITOCHU will market all coal produced from the project. The project expects to produce coking coal (semi-soft coking coal) for making cokes for steelmaking and high quality thermal coal for power generation. ITOCHU is committed to deploying marketing activities in its important markets especially Asian markets where greater demand is expected.
In addition to expanding its trading activities, ITOCHU intends to continue to acquire first class coal assets to enhance its portfolio of resource interests.

Profile of COALWORKS Limited
A natural resources development company that holds a number of resources exploration licenses in Australia
| | |
| --- | --- |
| Corporate name | COALWORKS Limited |
| Representative | Andrew Firek |
| Head office | North Sydney, New South Wales, Australia |
| Established | Listed on the Australian Securities Exchange in June 2008 |
Profile of Vickery South Mine
Location

Gunnedah, New South Wales

Approx 330 kilometers from Newcastle Port
Target coal
Coking coal (semi-soft coking coal) and thermal coal
Start of production
2013 (estimated)
Location of projects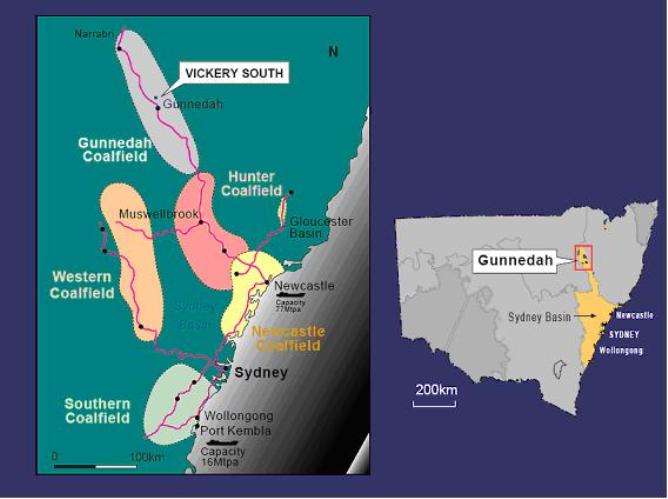 ---