ITOCHU Announces Expansion into China of StompStamp High-End Children's Clothing Store with Ningbo Shanshan
December 24, 2010
ITOCHU Corporation (headquartered in Minato-ku, Tokyo; Masahiro Okafuji, President & CEO; hereinafter "ITOCHU") announced today that ITOCHU and StompStamp (headquartered in Shibuya-ku, Tokyo; President; Kazuo Narumiya; hereinafter "StompStamp") have concluded a business collaboration agreement to operate Japan's StompStamp high-end children's clothing stores in China with Ningbo Shanshan Co., Ltd. (headquartered in Ningbo, Zhejiang; general representative: Koichi Nakabun; hereinafter "Ningbo Shanshan"), a core apparel company of Shanshan Group Co., Ltd. (headquartered in Ningbo, Zhejiang; legal representative: Zhuang Wei; hereinafter "Shanshan Group"), one of China's leading business groups.
In September 2006, StompStamp opened its first selection store in Tokyo's Roppongi Hills, offering a collection of discerning brand-name children's clothing from the West. This subsequently triggered a boom in imported children's clothing.
It now operates 26 stores in Japan, offering more than 150 domestic and overseas brands. StompStamp's selection stores now enjoy high popularity among junior baby boomer families as fashion coordination theme stores.
China's clothing industry is growing rapidly, with particularly high demand for high-end children's clothing due to fashion-conscious families' increased purchasing activity.
Seeking to benefit from this market trend, ITOCHU will launch a new business for discerning children's clothing selection stores that offers one-stop shopping for brand-name products from all over the world. This will be created with the integration of StompStamp's business knowhow in running such stores, Ningbo Shanshan's distribution network in China and ITOCHU's broad expertise in areas including brand businesses. Through this arrangement, Ningbo Shanshan will pursue expansion of its business categories as a comprehensive apparel company with the addition of children's clothing, while StompStamp will aim to expand its market by taking its first steps in overseas development.
StompStamp stores in China will be operated by Ningbo Shanshan Fashion Apparel Brand Management Co., Ltd (headquartered in Ningbo, Zhejiang), a wholly owned subsidiary of Ningbo Shanshan. On December 25, 2010, the first StompStamp store, with an area of approximately 40 tsubo (132 square meters) will open in Shanghai's New World shopping center. The first year sales target has been set at around 100 million yen. A total of 30 stores are slated to open by the end of 2014; five directly managed and 25 franchise stores.
Since the formation of a capital and business alliance in February 2009, ITOCHU and Shanshan Group Co., Ltd. have been promoting collaborative ventures in areas including brand business and commercial facilities in China and materials for lithium-ion batteries. The companies will continue to capitalize on their strengths in focusing on mutually beneficial development.

Outside view of China's first StompStamp store (New World shopping center, Shanghai)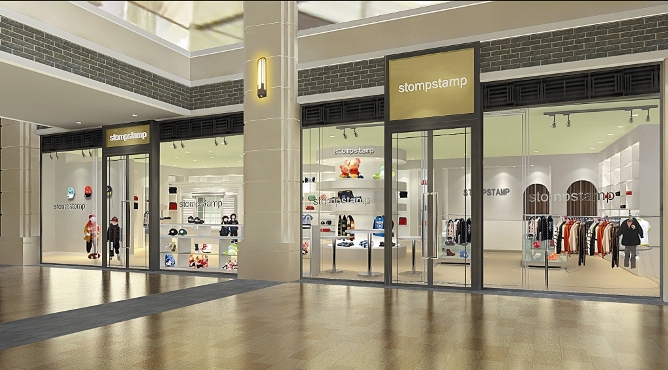 ---