President's New Year Message for 2011
January 4, 2011
At 9:00 a.m. today, ITOCHU Corporation held its New Year's ceremony in the first floor lobby of its Tokyo Head Office.
Along with an address by the president, the ceremony saw the first performance of the "Lion Dance" *and was a joyous occasion for the nearly 2,000 employees in attendance to wish one another business prosperity and a year free of illness or calamity.
Let me begin by wishing everyone a Happy New Year.
To start the year off, I would like to offer a few words to all members of the worldwide ITOCHU Group.

The Global Economy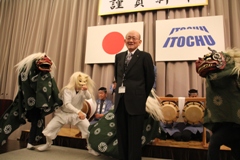 This milestone year marks the end of the first decade of the 21st century and the start of another 10-year cycle. The global economy has changed dramatically in the last decade. As illustrated by the growing presence of countries like China, India, Brazil and Russia, global economic growth is now being driven by emerging markets. To give an example, from 2000 to 2009, GDP on a dollar basis in developing markets experienced tremendous growth, with India growing 3.1 times, China 4.2 times, and Russia 4.7 times. At the same time, growth in developed markets was in the doldrums overall, with growth in the EU stagnating at 1.9 times, the U.S. at 1.4 times, and ITOCHU's home country Japan at 1.1 times. The gap in economic vitality is plain to see. In fact, one could say right now that the force driving the global economy is not developed markets, but rather emerging ones.
Management Over the Last Decade
Turning from the global economy, how has ITOCHU fared during the past ten years? Looking back at consolidated net income, we instituted management reforms in fiscal 2000 that resulted in a loss of just under \90 billion. But the following year, fiscal 2001, saw a V-shaped recovery in income to approximately \70 billion. From there, we posted a roughly \30 billion loss in fiscal 2004 from the early application of impairment accounting measures. However, income expanded steadily from that point, supported strongly by high resource and energy prices. Consequently, since fiscal 2006, we have grown into a corporate structure capable of consistently delivering net income of over \100 billion. The result has been a massive expansion in consolidated stockholders' equity, with the scant figure of just over \300 billion at the end of fiscal 2001 rising roughly 3.5 fold to over \1.1 trillion by the end of the first half of the current fiscal year. We also fought to reduce interest-bearing debt, with the NET DER undergoing a dramatic improvement from 8.0 times to 1.5 times. As for total assets, the growth rate over the ten-year period was just 6%. Although efficiency undoubtedly rose remarkably, a different look reveals virtually no growth in accumulation of highly profitable assets. In other words, one could say that ITOCHU, after much reflection on its past history, strove to relentlessly pursue efficiency over the last decade. But is it possible that ITOCHU has regained its health, only to have its strength diminished by being too overzealous in cutting away sources of strengths and weaknesses alike?
Reforms Since Assuming Office – Eyeing a Decade of Growth
As we look ahead, holding to our current course is simply not an option. With the global economy rapidly transforming, stagnation is now synonymous with decline. Growth in the coming years is not possible if we fail to sweep away a complacent mindset, and replace it with a drive to personally take decisive action to pave the future for ourselves. Gaps in the initiatives we take over the next several years will undoubtedly translate into large gaps in the future. Fortunately, we possess the financial base necessary to take the offensive. If there ever was a time to have a resolute and assertive stance, that time is now.
Since becoming president, I have enacted a number of reforms specifically designed to strengthen our workforce capabilities. We have slashed the number of company meetings, revised our internal rules, amended our methods for calculating risk assets, abolished organizational performance evaluations, amended the mandatory retirement system for officers at operating companies, cut expenses, and decided to carry out organizational realignment in April 2011. We approached every one of these measures boldly and with a sense of urgency. We are also determined to work out this fiscal year how best to deal with matters of concern for the future.
These actions are all part of the foundation we are building for taking ITOCHU on the offensive in the coming fiscal years. This assertive posture will be the centerpiece of our next medium-term management plan scheduled for launch this spring. Our initiatives for priority business fields and key measures will be clear and to the point in detailing the actions we intend to take. For investment too, we plan to radically alter our earlier approach, which set tight limitations, to strike out with a more aggressive investment policy.

A Request to ITOCHU Employees
In light of all this, I have two requests to make of you today.
The first is something that I constantly ask – get out on the front lines and personally experience it. Good ideas won't come from sitting around in an office. Head out to our bases across the world, meet our customers and partners, and move in the market to create the seeds for a host of new businesses.
My second request is that I want all of you to hone your skills as industry professionals, developing a profile that will make the global market take notice. In the same manner as in Japan, companies based in South Korea's limited domestic market are looking for channels where they can be active in foreign markets. Employees at those companies are making tremendous effort, and pulling out all the stops in their work. The same is happening in China and India. People in these countries are working furiously, with the world as their competition. I ask that all of you stay constantly aware of them, broaden your perspective to include the world beyond the safety of the Japanese market, and to strive each day to create a recognized presence in the world's markets.

In Closing
I want this year to mark the start of ten years of new growth for ITOCHU. As I suggested earlier, efforts to extensively embed our management system and the pursuit of efficiency over the last decade have unconsciously led us to become management focused, rather than business centered as a trading company should be. With that said, from now let us work together to break free of our inward-looking mindset, make a clear transition to a more assertive posture, and move to expand business scale. The starting point for that transformation is today.
This concludes my address. Thank you for listening.

The Meguro-style Nukui-Hayashi Lion Dance is recognized as an intangible cultural property of the City of Koganei (Tokyo Prefecture)
---