Zinc/Lead Joint Exploration Project in Canada
January 6, 2011
ITOCHU Corporation (headquartered in Minato-ku, Tokyo; Masahiro Okafuji, President & CEO; hereinafter "ITOCHU") and Mitsui Mining & Smelting Co., Ltd. (hereinafter "Mitsui") have formally agreed with Selkirk Metals Corp. (hereinafter "Selkirk"), a 100% owned subsidiary of Imperial Metals Corporation, regarding the Ruddock Creek zinc/lead joint exploration project in Canada, and have concluded a Joint Venture Agreement on December 30, 2010.
Under the terms of the agreement, Mitsui and ITOCHU shall bear all exploration expenditures to a maximum of CA$20 million (approximately 1.6 Billion Yen) up until March 31, 2013, and shall thereby acquire a 50% interest in the Ruddock Creek Project. A mineral resource in excess of 3 million tonnes has been identified at Ruddock Creek, and with acceleration and high efficiency of the exploratory operations, the joint venture between Selkirk, Mitsui, and Itochu shall be aimed at increasing the mineral resource to an economic level and continue towards the goal of development and operation of the Ruddock Creek Project.
Mitsui and ITOCHU have utilized the exploration expenditures subsidy system provided by Japan Oil, Gas and Metals National Corporation (JOGMEC).

Outline of Project Area
| | |
| --- | --- |
| Project Name | Ruddock Creek Zinc/Lead Joint Exploration Project |
| Location | British Columbia, Canada. Approximately 500 km north east of Vancouver |
| Mineral Title Holder | Selkirk Metals Corp./ Mount Polley Mining Corp |
| Project Area | Approximately 105km2 |
Possible Production Plan
| | |
| --- | --- |
| Targeted Resource | Minimum 9 million tonnes |
| Production | 2,000 tonnes/day x 350 days = 700,000 tonnes/year |
| Mine Life | 13 years |
| Target Grade | Zn 7.2%, Pb 1.5% |
Location Map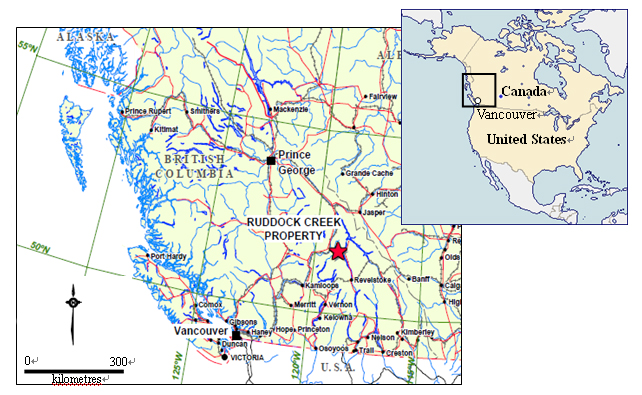 Outline of Imperial Metals Corporation
Principal Address
Vancouver, British Columbia, Canada
Listing
Listed on the Toronto Stock Exchange (TSX-III)
Establishment
1959
Business Activities

Mining company that owns and operates the Huckleberry Mine and Mount Polley Mine.

In addition to zinc, production and exploration for copper, gold and molybdenum.
---