ITOCHU Obtains Sales Representative Rights for SaaS-Type Expense and Purchasing Management System
-Through Alliance with Spendvision Japan Inc.-
January 28, 2011
ITOCHU Corporation (headquartered in Minato-ku, Tokyo; Masahiro Okafuji, President & CEO; hereinafter "ITOCHU") has become the first Japanese company to execute a sales representative agreement with Spendvision Japan Inc. (headquartered in Shibuya-ku, Tokyo; Tatsuya Murakami, representative director; hereinafter "Spendvision"), the Japanese subsidiary of Spendvision Holdings Ltd (headquartered in the United Kingdom; Robert Kirby, CEO) to begin sales of Spendvision.com, a SaaS*-type expense and purchasing management system supplied by Spendvision.
The current accounting procedures, moving toward internationalization, require transparency and qualification. The corporate expense and purchasing management sector is required to manage the expenses of transactions as well as compliance with company rules and policies. The increases in workload and processing costs involved in these efforts have been tasks to be solved by companies.
Spendvision.com is a SaaS-type solution that (1) imports historical data of all kinds of expense and purchasing transactions involving credit cards, electronic payment, temporary payment, advances paid, and bill payment; (2) goes through the approval and payment processes, and (3) synchronizes with the accounting system. The solution will reduce corporate workloads and processing costs and increase the transparency of accounting procedures for all industry sectors and company sizes by offering automated importing of transaction history data, computerized approval process, synchronized payment processes with accounting systems to reduce overlaps, electronic data archive, and multi-national functions (multi-language and multi-currency compatible.) Because it is an SaaS-type service, users benefit as it requires less system development, specifically allowing it to be implemented quickly and at low cost, as well as to operate efficiently with monthly fees for each active user account. Spendvision began selling the system in Europe and United States in 1999, and it is currently used by 250,000 companies. In Japan, Spendvision launched the service in 2010, and ITOCHU has become the first company to act as sales representative.
ITOCHU set up a cloud portal website called Cloud Gateway in August 2010 in an effort to start dealing in cloud services that are helpful in increasing management and operational efficiency. The recent acquisition of the sales representative rights allows ITOCHU to offer SaaS solutions for budgeting and performance forecasting management, essential tasks for all businesses. Taking advantage of the partnerships with Group firms and other networks that it enjoys as a general trading company, ITOCHU will continue its efforts to expand cloud services. 
SaaS (Software as a Service)
A type of service in which application software based on a common program is owned and managed by an outside provider, not by end users, and provided via a network in a one-to-many model
About Spendvision Holdings Ltd and Spendvision Japan Inc.
Spendvision provides SaaS-type solutions to improve the quality of corporate administrative processes in expense and purchasing management, specifically by increasing work process efficiency, reducing work processing cost, and increasing the transparency of all transactions. After repeated updates in the past decade of implementation in 250,000 companies, the system now offers flexibility and varieties in configuration settings to meet most needs in accounting, an area nearly always requiring customization for individual companies. Spendvision will continue to evolve through the delivery of its solutions to the market in Japan from 2010 onward.
Spendvision GUI screenshots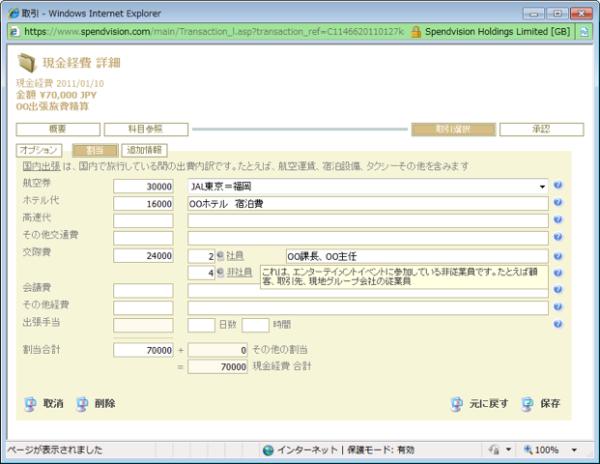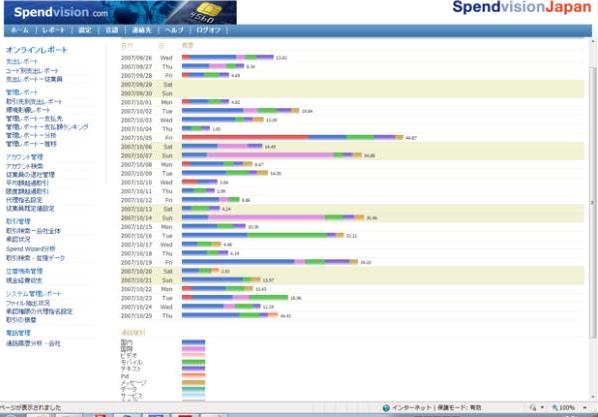 ---