ITOCHU and China's CSR Sifang Accept Additional Orders for Guangzhou Linear Metro Cars
February 14, 2011
ITOCHU Corporation (headquartered in Minato-ku, Tokyo; Masahiro Okafuji, President & CEO; hereinafter "ITOCHU") announced today that it has accepted an order from the Guangzhou Metro Corporation (headquartered in Guangzhou, Guangdong Province; hereinafter "Guangzhou Metro") to deliver 192 linear induction motor cars for the No. 5 subway line in collaboration with CSR Qingdao Sifang Locomotive and Rolling Stock Corporation Limited (headquartered in Qingdao, Shandong Province; hereinafter "CSR Sifang"), an affiliate of China South Locomotive & Rolling Stock Corporation Limited (headquartered in Beijing; hereinafter "CSR"), which is the largest manufacturer of railway rolling stock in China. The total value of the contract is approximately 17.0 billion yen and both companies will be jointly managing the project. Under the present arrangement, ITOCHU is responsible for supplying electrical components, brakes, and other key components of the linear induction motor cars from overseas manufacturers with CSR Sifang coordinating the technical particulars, procuring domestic components in China, and manufacturing the rolling stock. Taking advantage of the production capacity of the Chinese rolling stock manufacturer and the expertise in project management of both China and Japan, ITOCHU and CSR Sifang have been meeting a very tight delivery schedule and a steep demand in price since 2004. ITOCHU's track record in co-production with CSR Sifang was highly evaluated and led to the additional order.
In 2004, ITOCHU and CSR Sifang, among others, accepted an order for the first 300 linear induction motor cars in China for the No. 4 and No. 5 lines on the Guangzhou Metro. Last year, they accepted an order for 196 cars for the No. 6 line on the Guangzhou Metro (Scheduled for service in 2012), and with the present additional order for 192 cars, a total of 688 cars are expected to be delivered. Service on all five lines commenced in Guangzhou to coincide with the Asian Games held last November, and transfers between the lines have become easier. As a consequence, the total number of passengers on each line has risen significantly, and demand to decrease congestion has strengthened among the citizens of Guangzhou. In particular, the No. 5 line, where the linear induction motor cars under this additional contract will operate, has become the main East-West route in Guangzhou City, ever since the start of its service in the end of 2009. This contract will meet the needs of the public and contribute to the development of Guangzhou City. In addition, the consortium of ITOCHU and CSR Sifang has achieved safe operation of the existing No. 4 and No. 5 lines, even during the Guangzhou Asian Games last year, despite the increase in passenger numbers, and the two companies will be jointly awarded the Best Supplier Prize from Guangzhou Metro.
Guangzhou has a population of approximately 10 million, with plans to build a subway network of 16 lines covering a distance of at least 600 km by 2020, and further plans to add rolling stock to existing lines and procure linear subways. Guangzhou is the largest city in the South China area, and with construction of an urban transportation network from Guangzhou and Guangdong province to the Pearl River Delta, including Macau, now underway, the urban transportation and subway network is expected to reach a total of 2,000 km in the future
Highly acclaimed as ideal for the traffic system in heavily populated Guangzhou, the linear induction motor car manufactured by ITOCHU and CSR Sifang is also suitable for medium- volume to mass transportation in China. Consequently, ITOCHU will be aiming to win more orders in the future.
ITOCHU has positioned China as one of its principal markets, and it is undertaking projects in the railway sector after concluding a strategic collaborative alliance with CSR in 2005. To date, ITOCHU has received orders for the No. 4, No. 5, and No. 6 lines on the Guangzhou Metro and has established a joint venture for railway rolling stock design. ITOCHU is now pursuing technical cooperation encompassing the industrial machinery derived from the railways. Looking ahead, ITOCHU is seeking to develop collaborative alliances focused on urban transportation and export.
Summary of Additional Rolling Stock Order for Guangzhou Metro No. 5 line
| | |
| --- | --- |
| Contract coverage | Delivery of 192 linear induction motor cars for a subway |
| Contract value | Approx. 17.0 billion yen |
| Contract parties | ITOCHU, CSR Sifang consortium |
About CSR Qingdao Sifang Locomotive and Rolling Stock Corporation Limited
The largest plant for manufacturing railway rolling stock in China. Business is focused on high-speed rolling stock and urban transportation.
| | |
| --- | --- |
| Company name | CSR Qingdao Sifang Locomotive and Rolling Stock Corporation Limited |
| Representative | Jing Jiang, Chairman |
| Head office | No. 88, Jinhong East Road, Chenyang District, Qingdao City, Shandong |
| Established | 1900 |
| Capital | RMB 3.3 billion |
| Employees | 6,500 |
| Net sales | RMB 10.1 billion (2009) |
| URL | http://www.csrgc.com.cn/ (CSR website) |
Similar model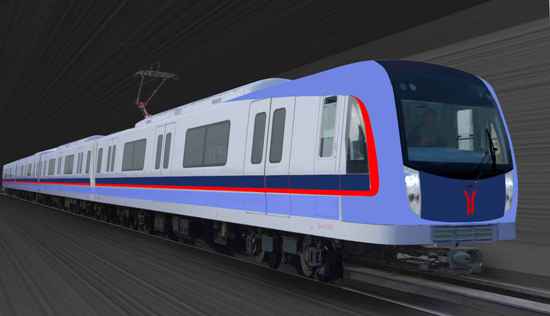 ---