ITOCHU to Make Capital Investments to Expand the Supply Capacity of Western Australia Iron Ore Operations
-Expanding Supply Capacity to Accommodate Long-Term Increase in Demand for Iron Ore -
March 25, 2011
ITOCHU Corporation (head office: Minato-ku, Tokyo; President: Masahiro OKAFUJI; hereinafter "ITOCHU") has decided to make an investment for further growth of it's Western Australian Iron Ore Operations, which are run as a joint venture with leading mining company, BHP Billiton (Australia & UK).
The capital investment is expected to total US$7.4 billion with the ITOCHU share approximately US$0.39 billion. In November 2010 ITOCHU approved Pre Sanction Funding equivalent to approximately US$0.04 billion. Including this amount, the total of ITOCHU's capital investment is expected to total approximately US$0.42 billion.
The operations have been moving forward with a phased expansion plan called Rapid Growth Projects ("RGP"). This decision is in addition to the current ongoing construction work primarily for the expansion of the Yandi mine, and the Pre Sanction Funding announced in January 2010, under which the expansion of the Port Hedland loading facility, the development of the Jimblebar mine (BHP Billiton holds a 100% share), and the installation of port blending facilities to prepare for the future growth of the business. This is expected to increase installed capacity to in excess of 220 million tons per annum ("mtpa")(100% basis).
ITOCHU with BHP Billiton and Mitsui & Co., Ltd. ( "Mitsui", head office: Chiyoda-ku, Tokyo: President: Masami Iijima) owns the three iron ore joint ventures of Mt. Newman, Yandi and Mt. Goldsworthy in Western Australia (BHP Billiton holds an 85% share, ITOCHU 8%, Mitsui 7%). Shipments totaling approximately 138 million tons were made in the 2010 calendar year by the three joint ventures, primarily to Asia.
ITOCHU will seek to increase the supply capacity of iron ore through the Western Australia iron ore operations, in response to the expected increase in demand worldwide, particularly from China and other developing countries over the medium and long terms.

Profile of BHP Billiton
Established

June 30th 2001

A leading mining company established as a result of the merger of Australia's Broken Hill Proprietary Company (BHP), which focused on iron ore, coal, oil, natural gas, etc., and the UK's Billiton (with a Dutch and South African background) which focused on aluminum, nonferrous, coal, etc.
Head Office

Melbourne, Australia

A dual-listed company in Sydney and London. Also listed on the markets in Johannesburg (South Africa) and New York.
Recent Performance

Full year ending June 2010 (July 2009 – June 2010):

Proceeds:US $52,798 million (Approximately 4.2 trillion yen)

Earnings after tax:US $12,469 million (Approximately 1.0 trillion yen)
Location of the project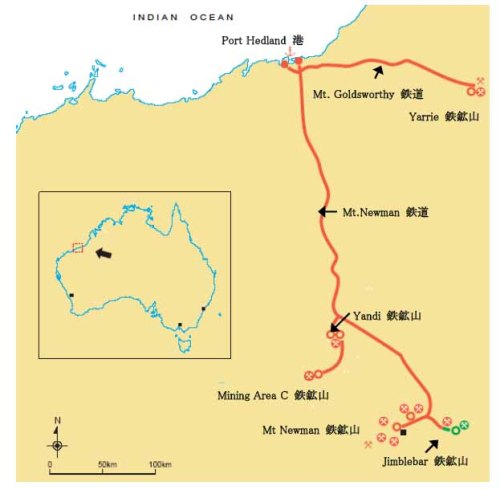 ---