ITOCHU Expands the AIRWALK Brand to China
April 20, 2011
ITOCHU Corporation (headquartered in Minato-ku, Tokyo; Masahiro Okafuji, President & CEO; hereinafter "ITOCHU") announced today that it has concluded an exclusive manufacturing and sale agreement for the AIRWALK brand in the Chinese market (including Hong Kong and Macau). ITOCHU, which distributes the brand in the Japanese market, concluded the agreement with U.S. firm Collective Licensing Intl. LLC, which is the brand holder of AIRWALK and owns the AIRWALK trademark in China.
ITOCHU has established a sub-licensing agreement with the major Chinese sports retail chain SPORT 100 (Shanghai Sport100 Co., Ltd.), and will utilize the company's sales network to kick off its expansion of the brand into China from April 2011.
ITOCHU and ITOCHU Textile (China) Co., Ltd. will engage in product planning and production, and market apparel, footwear and general merchandise to target the active and highly-sensitive 10-30 year old consumer segment which drives the burgeoning consumer market in China.
As AIRWALK sales centers, ITOCHU plans to commence sales at four outlets directly-operated by SPORT 100 in Shanghai, including the Shanghai NO.1 Department Store East Tower and Raffles City outlets, as well as at 24 franchisee stores in Shanghai, Wuhan, Chengdu, Beijing, Chongqing, Hangzhou, Tianjin, Wenzhou, Ningbo, Changzhou, Shenzhen, Guangzhou and Kunming, making a total of 28 stores. Starting with the Shanghai NO.1 Department Store East Tower which opened April 15, stores will be opened sequentially across China.
Looking ahead, sales will be expanded with a focus on China's major cities, with plans for sales to grow to the order of four billion yen in terms of proceeds from retail sales in five year's time.
AIRWALK began in 1986 in California as a line of footwear to meet the needs of skateboarders and BMX riders, and this year the brand celebrated its 25th anniversary. With the rise of action sports, AIRWALK is not only embraced by skateboarding, BMX, snowboarding and mountain biking enthusiasts but continues to captivate youth culture with its unique style in the casual wear, snow wear and accessory categories.
In the current AIRWALK license business in the Japanese market, eleven sub-licensee companies offer a diverse range of items with mass merchandisers as their principle sales outlets.

The first AIRWALK store in Shanghai, which opened April 15 in the East Tower of the Shanghai NO.1 Department Store.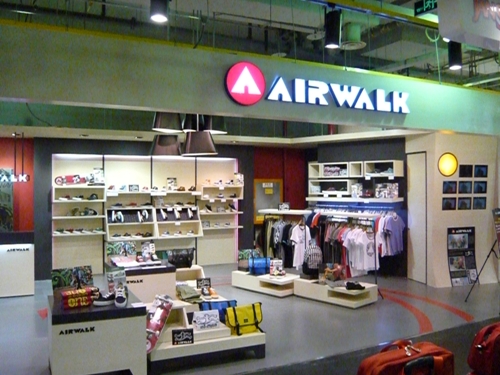 ---