Acquisition of Interest in Newly-Built Gas Fired Power Plant in Belgium
May 19, 2011
ITOCHU Corporation (headquartered in Minato-ku, Tokyo; Masahiro Okafuji, President & CEO; ITOCHU) announced today that it has reached an agreement with International Power (IPR), a leading independent electricity generating company, to acquire 33.3% of shares of 420 MW T-Power combined cycle gas turbine (CCGT) *1 power plant of Belgium (T-Power) from IPR. The total project cost is estimated to be over 50 billion yen.
Through the clearance process of European Commission for IPR's merger with GDF Suez Energy International in this February, IPR was mandated to transfer its shares of T-Power to a third party during 2011, due to its dominating position in Belgium electricity market, and began negotiations with ITOCHU.
With the reputable track record and performance of NAES Corporation (the leading third-party provider of comprehensive operation and maintenance services; NAES), a wholly-owned subsidiary of ITOCHU, two companies finally reached this agreement.
The power plant is scheduled to begin commercial operation in this June, with a long-term tolling agreement (15-year term, with option to extend for five years)*2 concluded with the RWE Group, one of the largest utility companies in Germany. The project is expected to generate stable income soon after the acquisition. According to the agreement between ITOCHU and IPR, NAES will be appointed as an operation and maintenance service provider for T-Power plant.
T-Power is the first IPP*3 project in Belgium, where electricity market deregulation is progressing. Taking advantage of the first investment in CCGT power plant in Europe, ITOCHU continues to pursue further investment opportunities in this market. Because of the high energy efficiency of CCGT technology, the plant contributes to keep the environment green through less CO2 emissions.
In its medium-term management plan, Brand-new Deal 2012, ITOCHU positioned the IPP business, which generates stable revenues over the long term, as a priority area. ITOCHU will seek more growth opportunities in Europe, the Middle East, Asia and other areas, in addition to North America where the company has steadily accumulated its IPP assets.

CCGT: A power generation method that combines a gas turbine with a steam turbine. The remnant heat in exhaust gas after operating the gas turbine is used for boiling water, and power is generated using the steam turbine. This method enables efficient power generation, with lower carbon dioxide emission than other fossil fuel power generation methods.
Tolling Agreement: A kind of power purchase agreement, where an off-taker is obliged to provide fuel power generation and pay for it
IPP: Independent Power Producer
About IPR
International Power plc is a leading independent electricity generating company headquartered in the United Kingdom. The company has conducted IPP business globally, with power generating capacity of 41,550MW (net) with power plants in operation and 6,826MW (net) with those under construction (as of December 31, 2011).
About NAES
NAES Corporation, a wholly-owned subsidiary of ITOCHU group, is the largest independent, third-party provider of power plant operations and maintenance services. NAES has contract operation service experience of approximately 180 plants in 10 countries (equivalent to 51,800MW), as well as various major maintenance service experience to large scale boilers, electrical systems, gas turbines, and steam turbines.
Images of the power plant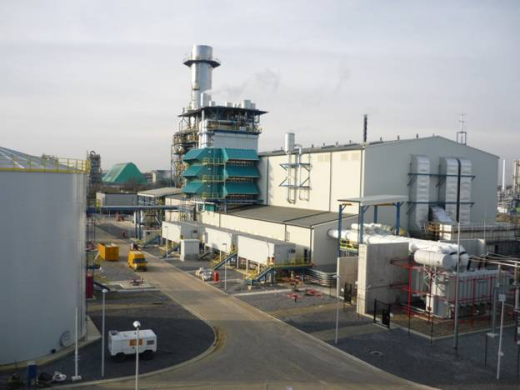 ---