ITOCHU Corporation Invests in Drummond Company Colombian Mines
June 16, 2011
ITOCHU Corporation (headquarters: Minato-ku, Tokyo; President and CEO: Masahiro Okafuji; hereinafter "ITOCHU") has reached an agreement with Drummond Company, Inc. (headquarters: Birmingham, Alabama, USA; Chairman & CEO: Garry N. Drummond; hereinafter "Drummond") and Drummond affiliated companies to enter into a partnership where ITOCHU will own 20% and Drummond will own 80% of the Colombian mining operations and related infrastructure (hereinafter "Colombian Operations") currently owned 100% by Drummond.
ITOCHU will own 20% of the Colombian Operations through a new 100% subsidiary, ITOCHU Coal Americas Inc. Consideration for the 20% ownership interest will be US$1.5235 billion (approx. ¥126.5 billion), subject to certain adjustments. In addition, ITOCHU will obtain the exclusive rights to market this coal in Japan and will cooperate in the marketing of coal to electric power utilities and to other coal consumers in other Asian countries. ITOCHU is also in continuing discussions with Nippon Export and Investment Insurance of Japan (NEXI) regarding trade insurance for this transaction.
Drummond commenced coal production in Colombia in 1995 and exports all its production as thermal coal. Drummond's Colombian Operations hold concessions to mine its large reserve base in Colombia consisting of proven and probable reserves of approximately 2 billion metric tons. These reserves have high calorific value, low sulfur and low ash. Currently production is approximately 25 million metric ton per annum.
Globally, ITOCHU plans to increase its equity share in coal mining operations from 8 million metric ton of production per annum to more than 20 million metric ton per annum by 2015. This investment is a key step in achieving this target. It will also allow ITOCHU to diversify its coal assets to a new geographic region and grow its trading activities. ITOCHU will continue its efforts to strengthen its natural resources portfolio.

Drummond Outline
| | |
| --- | --- |
| Company | Drummond Company, Inc.(non-listed) |
| Chairman & CEO | Garry N. Drummond |
| Headquarters | Birmingham, Alabama, USA |
| Founded | 1935 |
| Employees | 6,500 |
| Industries | coal and foundry coke production and sales, real estate development |
| Group Companies | Drummond Associates, Inc., Drummond Ltd., Drummond Projects, LLP, Drummond USA, Inc., Drummond Coal Sales, Inc., etc. |
Colombian Operations
1) Mines (100% owned by Drummond)
| | |
| --- | --- |
| Location | Five mining concessions (Mina Pribbenow, El Descanso, etc.) near La Loma, Cesar Department, Colombia |
| Reserves | 1.9 billion metric tons (proven:1.2 billion metric tons, probable:0.7 billion metric tons) |
| Coal Type | Thermal |
| Mining Method | Open cut |
| Mine life | Greater than 50 years |
| Production | 25 MMT per annum |
2) Infrastructure
| | |
| --- | --- |
| Rail | Fenoco (40.96% owned by Drummond) |
| Transport | 35 locomotives, 1550 railcars (Drummond owned) |
| Exclusive Port | Puerto Drummond(Drummond owned) |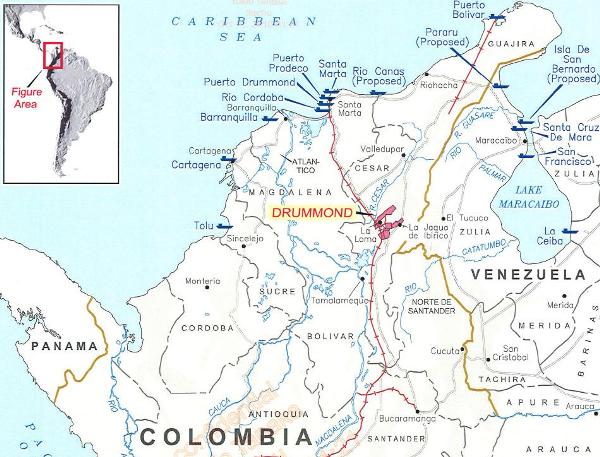 ---