Sales Commence of the First Merchandise from Hahanokimochi, a New Brand Under the Karada Smile Project Run by Four Companies from the UNY Group and the ITOCHU Group!
June 30, 2011

UNY Co., Ltd. (headquartered in Inazawa-shi, Aichi; Tetsuro Maemura, President), Circle K Sunkus Co., Ltd. (headquartered in Chuo-ku, Tokyo; Motohiko Nakamura, President), FamilyMart Co., Ltd. (headquartered in Toshima-ku, Tokyo; Junji Ueda, President and CEO) and ITOCHU Corporation (headquartered in Minato-ku, Tokyo; Masahiro Okafuji, President & CEO) are launching the first merchandise from Hahanokimochi, a new brand under the Karada Smile Project, which was collaboratively planned, developed and implemented by the four companies. The UNY Group and the ITOCHU Group will continue the Karada Smile Project to offer products and services that are valued by customers.
Brand name

Hahanokimochi

The concept of the new product comes from a mother's unceasing wish (kimochi) for the good eating habits of her whole family, including an appropriate nutritional balance and calories and a sufficient intake of tasty vegetables.

Concept

・Eat as much healthy food as possible.

・As much as possible, satisfy your body with food.

About the product

・Our focus is on low calories, high dietary fiber and flavor.

・The motif on the product package is a letter written by a mother who is wishing for the wellbeing of her whole family who may live far away. Consumers will experience warmhearted feelings as well as tastiness and health.

・The opinions and requests of as many customers as possible have been reflected. As a result, the new products are healthier and tastier.  

・The two new items in the Calorie Light Series (four items for Apita and Piago) are filling, rich in flavor and low in calories. The other two items in the Colorful Vegetable Series are characterized by having domestic vegetables kneaded into the dough, as well as their color and chewy texture.
Product information
| Product name | Selling price | Characteristics |
| --- | --- | --- |
| Eat more and consume fewer calories with Tokachi tsubuanpan Your Mom | 115 yen | Light, fluffy dough is baked into low-calorie Tokachi tsubuan rolls. |
| Cream-filled roll, rich in custard and low in calories Your Mom | 115 yen | Light, fluffy dough is baked into low-calorie custard cream rolls. |
| Time to eat some vegetables? This soft omelet contains Japanese carrots Your Mom | 140 yen | Soft omelet containing Japanese carrots and refreshing whipped cream. |
| Soft omelet with tomato and honey: these vegetables are not like vegetables Your Mom | 140 yen | Soft omelet containing Japanese tomato and honey-flavored whipped cream. |
As a result of consumers' increasing focus on health, four companies (UNY, Circle K Sunkus , FamilyMart and ITOCHU Corporation) founded the Karada Smile Project in January 2008 with the aim of facilitating research into and the development of healthy products throughout the entire process of their production from the raw material stage.
The above prices are including tax.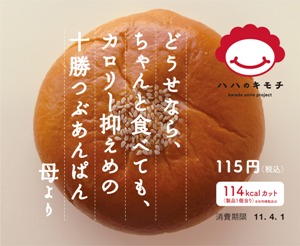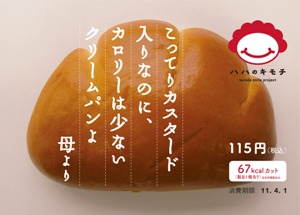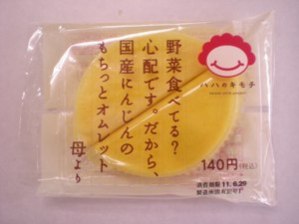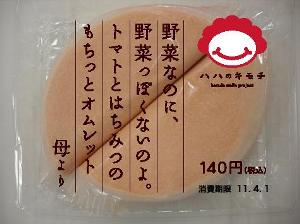 Reference information
---