ITOCHU Announces First Domestic Launch of adidas Medical and Nursing Care Attire and Footwear
July 11, 2011
ITOCHU Corporation (headquartered in Minato-ku, Tokyo; Masahiro Okafuji, President & CEO; hereinafter "ITOCHU") announced today that it has been decided that Apron World, Inc. (headquartered in Chiyoda-ku, Tokyo; Yazawa Masanori, President and Representative Director) and the Apron Group (Sun Arrow Co., Ltd. and TAP Inc.) will promote medical and nursing care wear and footwear product lineups by adidas, a multi-sports brand, jointly with adidas Japan K.K. (headquartered in Shinjuku-ku, Tokyo; Paul Hardisty, President & CEO).
The new product line to be released in the fall of 2011 is the first launch of medical and nursing care wear in Japan by adidas, top-ranking sports competition wear loved and keenly supported by people worldwide as an athletic lifestyle brand.
ITOCHU announced that ITOCHU and itochu fashion system co., ltd. (headquartered in Shibuya-ku, Tokyo; Masashi Uchibori, President) will support the Apron Group for promotion of the new product line, in purchasing and manufacture as well as advertising and sales promotion.
The Apron Group holds the top-ranked shares in Japan in planning, manufacture and sales of uniforms for medical and nursing care personnel. The Group regards the new product line as the starting point for further progress and business expansion.
In workplaces of medical and nursing care professionals, speed and extensive body movement nothing short of those required of athletes is sometimes demanded. The performance demanded of their uniforms therefore has much in common with athletic wear.
Under the concept of "new uniforms that fully meet the fundamental functional requirements of medical and nursing care workplaces, combined with functionality of materials for athletic wear and cutting technologies permitting smoother body movement," apparel and footwear will be launched in the fall of 2011, with targeted sales of 1.3 billion yen based on retail prices after five years.

Comments by adidas Japan K.K.
Paul Hardisty, President and CEO of adidas Japan K.K., commented on the new partnership.
"We are greatly honored to form this partnership with the Ap-ron Group.
"The partnership allows us to utilize our expertise and product technologies cultivated in the athletics market in the new markets of medical and nursing care, which appear to hold a great deal of promise.
"With the hopes of revitalizing the medical and nursing care apparel markets and help those working in these areas to move around easily and comfortably, we intend to continue building on our development efforts through the partnership.
"At the same time, we hope for further prosperity and business expansion for the Ap-ron Group."


The products are being developed under the adidas sports performance brand, so as to fuse athletic wear technologies.
Trade show
Prior to the fall 2011 launch, our products will be exhibited at the International Modern Hospital Show 2011 (booth A-13) held July 13-15 at Tokyo Big Sight.
Profile of Apron Group
| | |
| --- | --- |
| Company name | Apron World Inc. |
| Representative | Masanori Yazawa |
| Head office | 1-5-6 Higashi Kanda, Chiyoda-ku, Tokyo |
| Scope of major businesses | planning and sales of uniforms for medical, nursing and nursing care professionals and beverage business personnel |
| | |
| --- | --- |
| Company name | Sun Arrow Co., Ltd. |
| Representative | Shinji Yazawa |
| Head office | 1414-2 Manaita, Gyoda-shi, Saitama |
| Scope of major businesses | wholesaling, distribution and sales of uniforms for medical, nursing and nursing care professionals and beverage business personnel |
| | |
| --- | --- |
| Company name | TAP Inc. |
| Representative | Yasue Yazawa |
| Head office | 3-35-5 Higashi Ueno, Chiyoda-ku, Tokyo |
| Scope of major businesses | manufacture and wholesaling of uniforms for medical, nursing and nursing care professionals and beverage business personnel |
Images of products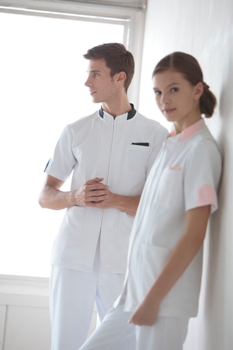 ---