Hahanokimochi, a New Brand under Karada Smile Project Run by Four Companies from UNY Group and ITOCHU Group, Launches its Second Product - Shokumotsu Sen-i Tappuri Yogurt
July 22, 2011
UNY Co., Ltd. (headquartered in Inazawa-shi, Aichi; Tetsuro Maemura, President), Circle K Sunkus Co., Ltd. (headquartered in Chuo-ku, Tokyo; Motohiko Nakamura, President), FamilyMart Co., Ltd. (headquartered in Toshima-ku, Tokyo; Junji Ueda, President and CEO), and ITOCHU Corporation (headquartered in Minato-ku, Tokyo; Masahiro Okafuji, President & CEO) will introduce Shokumotsu Sen-i Tappuri Yogurt[Dietary fiber-rich yogurt]. This is the second product (its first was a lineup of breads) from Hahanokimochi, a new brand under the Karada Smile Project, which was collaboratively planned, developed and implemented by the four companies.
About Shokumotsu Sen-i Tappuri Yogurt
Trade name
Shokumotsu Sen-i Tappuri Yogurt [Dietary fiber-rich yogurt]
Characteristics

Eat it and get half the dietary fiber you need in a day -Your Mom*1

1) One serving of this product contains dietary fiber equivalent to 2.7 heads of lettuce (9 grams)*2

2) Healthy, with 53 kcal and 0% fat per serving

Date of launch

Tuesday, July 26, 2011

The product simultaneously goes on sale at all Apita, Piago (stores selling food), Circle K, Sunkus and FamilyMart stores nationwide.*3
Price
108 yen (tax included)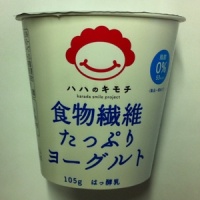 About the new Hahanokimochi brand

Founded in January 2008, the Karada Smile Project is a collaboration by four companies—UNY, Circle K Sunkus, FamilyMart and ITOCHU Corporation—with the aim of facilitating research and development on healthy products throughout the entire process of their production, starting at the raw material stage, in the context of consumers' increasing focus on health. Products have been produced under the new brand name, Hahanokimochi, products since June 2011.
Brand name

Hahanokimochi [Mother's wish]

The brand name is inspired by a mother's continuous wish (kimochi) for her family to have good eating habits, which includes appropriate nutritional balance and caloric intake.
Concept

・Eat as much healthy food as possible.

・As much as possible, satisfy your body with food.
Calculated from the target amount (for adults) specified in the 2010 edition of Japanese dietary reference intakes.
Calculated from the fifth revision of the Standard Tables of Food Composition in Japan, assuming the edible part of a head of lettuce is 300 grams.
Number of stores selling the new product (as of the end of June 2011)
Apita and Piago (all stores selling food): 216
Circle K Sunkus (all stores): 6,187
FamilyMart (all stores): 8,388
---