ITOCHU Announces Rollout of First Smart Street Lighting Business in Japan Using State-of-the-art Technology
September 26, 2011
ITOCHU Corporation (headquartered in Minato-ku, Tokyo; Masahiro Okafuji, President & CEO; hereinafter "ITOCHU") announced today that it will roll out its smart street lighting business using state-of-the-art technology, as part of its energy management business initiatives.
Currently, the majority of streetlights, outdoor security lights, park lights, and so forth (hereinafter "street lighting") in widespread use in Japan can only be switched on and off using a timer or illuminance sensor. Illumination cannot be finely adjusted to the surrounding environment, weather, or seasons, and so such lights remain switched on continuously with a fixed illuminance. Further, since a timer or illuminance sensor is required to switch the lights on and off, and a late stage of the lamp life time may result in the lights being left on even during the daytime, which is an issue that needs to be resolved. Recently in particular, as part of the current energy saving measures, initiatives to thin street lighting have been proposed. However, there are those who question this approach from the perspective of safety and security.
Meanwhile, street lighting is mainly operated, maintained, and controlled by municipalities, and the replacement of lamps mostly happens as a result of reporting by local residents. The matter of how to improve operations from a safety and security perspective during the time until the lamps are replaced is an issue. In addition, since the life expectancy of lamps for street lighting cannot be ascertained in advance, preventive replacement at the right time cannot be carried out. The replacement of lamps is therefore inefficient, resulting in increased costs, which is also an issue.
To resolve these issues, ITOCHU will roll out Japan's first smart street lighting solution based on the power line communications (PLC) technology and products of Echelon Corporation*1, a U.S. company with a proven track record of introducing many such systems overseas, and French company Streetlight.Vision.
The smart streetlight solution consists of a power line communications (hereinafter "PLC") compatible communications apparatus that has PLC capability installed on each streetlight, which transmits and receives data through the already established power line infrastructure. This enables the remote fine-tuned adjustment and control of streetlights according to the environment, without laying a new communications network, helping to reduce the amount of energy consumed. Not only by accurately measuring power consumption, accumulated lighting time, but also by automatically identifying lamp failures and monitoring, and so forth, the system can also suppress power consumption and the volume of carbon dioxide emissions, as well as operate, maintain, and control street lighting more efficiently (smart street lighting).
The first introduction of the system in Japan will be a smart street lighting demonstration project (hereinafter "the Project") as part of the Ministry of the Environment's "2011 Challenge 25 Regional Development Project" *3, in which ITOCHU will collaborate with Iwasaki Electric Co., Ltd., the largest manufacturer of street lighting in the industry, and Panasonic Electric Works Co., Ltd. The demonstration is scheduled to take place in Tsukuba City, Ibaraki Prefecture for a period of three years from fiscal 2011 to 2013.
Since May 2010, the ITOCHU Group has been the main party to a joint project being conducted with Tsukuba City, the "Green Crossover Project" (project to demonstrate low carbon transportation system using clean energy), the objective of which is to construct a secondary use business model to employ lithium-ion batteries used in electric vehicles to store electricity generated from solar and other renewable energy sources. Now, we are taking this forward-looking initiative into the street lighting sector, which will be the first of its kind in Japan.
With the rollout of its smart street lighting business, ITOCHU will not only help to reduce power consumption, but will maintain proper safety and security, which is an issue due to the thinning of street lighting after the Great East Japan Earthquake. Also, to reduce operation and maintenance costs, we will utilize the various data collected during the demonstration project, starting with the demonstration, with a view to converting at an early stage, together with our partners, the approximately 10 million streetlights installed nationwide and controlled by local government into smart street lighting.
About Echelon Corporation
Headquartered in the United States, the Company develops the network technology (intelligent distribution technology for installations) LonWorks, which is being used in about 20 countries, including the United States, China, and Japan, for building installation management, industrial installations, automation systems for energy monitoring / control equipment , and so forth. ITOCHU began cooperating with Echelon Corporation in a distribution capacity after concluding a Distribution Agency Contract with the Company in January this year.
About STREETLIGHT.VISION
Headquartered in France, the Company develops and markets « Streetlight  Vision », software that enables streetlights to be monitored and controlled remotely online, and has already been introduced in approximately 300 cities in Europe, China, and other parts of the world. ITOCHU has begun cooperating with the Company in a distribution capacity after concluding a Total Distribution Agency Contract in Japan, and a Distribution Contract in Asia.
"2011 Challenge 25 Regional Development Project"
A project that seeks to focus on the effectiveness of building systems in which various technologies are used by people in a local area and, out of effective and innovative measures to reduce greenhouse gases by 25%, to demonstrate the feasibility, profitability, diffusibility, and other aspects of an innovative measure whose beneficial effect has not been adequately demonstrated, although which has been established in technological terms, and to roll it out nationwide. Projects were invited on four themes: (1) Utilizing unused urban heat; (2) Constructing a low carbon transportation system; (3) Creating a low carbon area around major railway stations, etc.; (4) Utilizing biomass energy, etc. Out of a total of 50 submissions, 13 were selected.
Overview of ecoFORTE Street light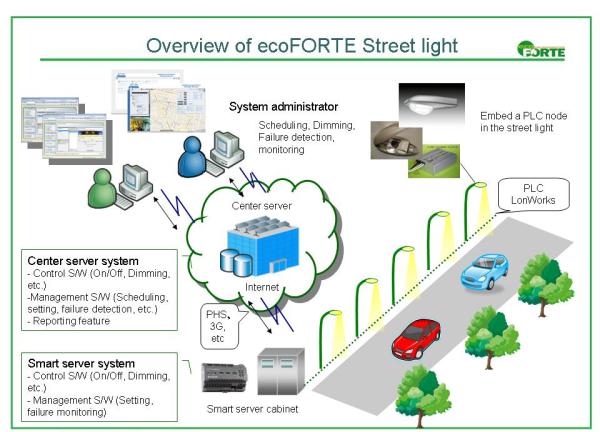 ---