ITOCHU Announces the Grand Opening of the SHANJING OUTLET PLAZA・NINGBO, the First Full-Scale Outlet in Ningbo City, Which Took Place on September 23
September 26, 2011
ITOCHU Corporation is pleased to announce the grand opening of the SHANJING OUTLET PLAZA・NINGBO in Ningbo City, Zhejiang Province, China, which took place on September 23. Development of this outlet mall had been undertaken by Shanjing Real Estate Development (Ningbo) Co., Ltd., a joint venture with Shanshan Group Co., Ltd., Mitsui Fudosan Co., Ltd., Daito Woolen Spinning & Weaving Co., Ltd., and Lanway Investment Co., Ltd.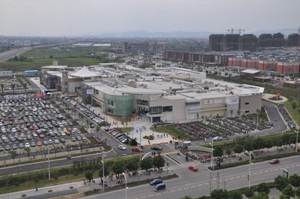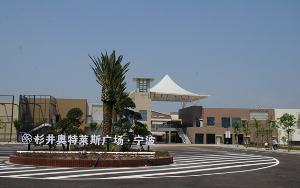 Profile of the SHANJING OUTLET PLAZA・NINGBO
■The first full-scale outlet mall in Ningbo City, with a retail space of approx. 26,000 m2 and some 130 stores
・The first facility in Ningbo to consist of outlet stores only
・The tenants are a rich variety of Chinese and overseas brands, meeting the needs of the market in Ningbo.
The extensive lineup of stores includes luxury brands from Europe and the United States, Asian (Chinese and South Korean) brands, Japanese brands, and sporting goods brands.
<Main tenants>
・Fashion brands of Europe and the United States
Cerruti 1881, Dolce & Gabbana, Calvin Klein Jeans, Lacoste, Levi's, Miss Sixty, etc.
・Sports and outdoor brands of Europe and the United States
Nike, adidas, PUMA, Le Coq Sportif, Timberland, Columbia, VICTOTINOX, etc.
・General merchandise brands of Europe and the United States
ZWILLING, SAMSONITE, etc.
・Japanese brands
SEIKO, NICE CLAUP, REGAL, OLIVEdesOLIVE, Wacoal, Combi, etc.
・Chinese and Hong Kong brands
Li-Ning, ELEGANT PROSPER, IT, G2000, etc. 
■ Located just 10 kilometers west of the heart of Ningbo City and adjacent to a highway interchange, it has superb access to transportation. Shuttle buses run in two routes between the heart of the Ningbo City and the facility.
・Ningbo City is located in Zhejiang Province. Adjacent to Shanghai, the economic capital of China, and to Chiangsu Province, Zhejiang Province is one of the areas in China enjoying remarkable economic development. Ningbo City, a leading city of Zhejiang Province, serves as a trade center given the convenience of its location for maritime transportation.
In addition, the area is home to many spinning and apparel companies.
・The main targets are families and people in their 20s and 30s who live in Ningbo City and own private cars. Wealthy people in their 40s or older and tourists from surrounding areas are also considered.
■ The architectural design and environment use a "voyage" theme as Ningbo City is a port town.
・The facilities are broadly divided into three zones -- "Ocean," "City," and "Green" – each of which is designed based on the overall theme.
・The Ocean zone: Features of this zone include waterscape, such as fountains and ponds, as well as a large glass roof and glass curtain wall.
It was designed in the image of a beach resort, with a blue ocean and white sand beach.
・The City zone: This zone gives an atmosphere of a busy mart, created using tent canopies and brick-like exterior wall materials.
・The Green zone: The use of stones, tiles, and trees creates a calm atmosphere throughout the site, reminiscent of the lush greenery of a natural environment.
■ The circuit-type flow line, which is familiar to users of outlet malls in Japan, and other elements ensure ease of shopping. The space is designed to be familiar to local customers in China.
・While the stores are located outdoors, customers can visit all of them on rainy days without getting wet thanks to the circuit-type flow line. The stores were laid out in ways that eliminate blind spots, and there are many flow lines between the 1st and 2nd floors, making it easier for customers to move around the site.
・Customers will encounter green spaces and waterscapes such as fountains and ponds throughout the facilities. There is also a well-equipped playground for children. These and other elements make the entire space a place where local customers can not only enjoy shopping but also relax and have fun with their families, for example.
■ Service know-how accumulated through operations at outlet malls in Japan will be localized and utilized to train local staff, so that the facility will be kept secure, safe, and clean by the operating and managing staff.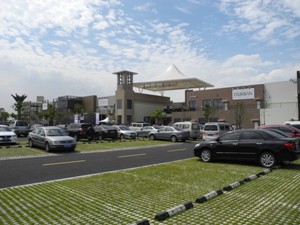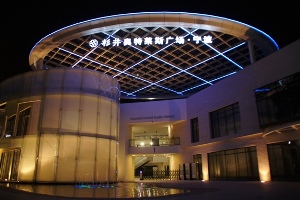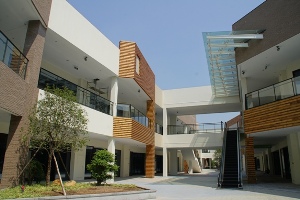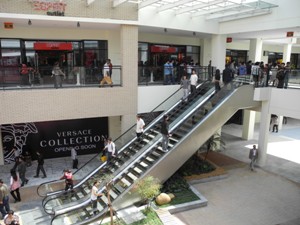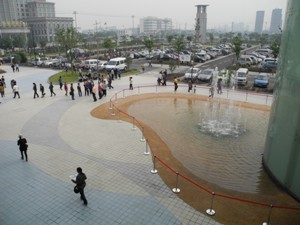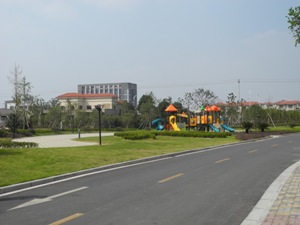 ---