ITOCHU Announces Cooperation to a Project for Developing Technology for EV Conversion of Delivery Trucks
October 17, 2011
ITOCHU Corporation (headquartered in Minato-ku, Tokyo; Masahiro Okafuji, President & CEO; hereinafter "ITOCHU") announced today that it will be cooperating in a development project involving EV conversion for delivery trucks, being jointly undertaken by Tokyo R&D Co., Ltd. (headquartered in Chiyoda-ku, Tokyo; Masao Ono, President & CEO; hereinafter, "Tokyo R&D") and the Institute of Applied Energy (located in Minato-ku, Tokyo; Ryoichi Shirato, President; hereinafter, "IAE"). ITOCHU will supply lithium ion batteries and photovoltaic power generators for the project and will help Tokyo R&D and IAE operate the project smoothly.
The project is being undertaken as one of the FY2011 Projects for Development of Technology to Counter Global Warming (Commissioned Projects) by the Ministry of the Environment. It is aimed at developing technologies allowing EV conversion for delivery trucks and achieving early application. Through the project, the possibility of retailing services provided in the form of tailgate sales and the use of the features of electric vehicles, for instance as an emergency power supply, will also be studied to see if they will help address social issues in Japan, such as rural depopulation, rapid aging, and consumers who have difficulty shopping for daily needs.
Specifically, the vehicles will be used experimentally for tailgate sales mainly in Tsukuba City, Ibaraki Prefecture, where demonstration experiments for the low-carbon society are being run under the program "Tsukuba Kankyo Style – Jikken Teitanso Town (A Town for Demonstrations on a Low Carbon Society in Tsukuba's Own Eco-Friendly Style)." The experimental use of the vehicles will be undertaken with the cooperation of Kasumi Co., Ltd. (headquartered in Tsukuba-shi, Ibaraki; Toshiaki Ishihara, President), which operates about 140 supermarkets, mainly in North Kanto. The experiment began in early 2012 and is expected to run for a period of about one year.
In Tsukuba City, ITOCHU launched in May last year the "Green Crossover Project" (a pilot project for a low-carbon transportation system using clean energy), which is aimed at developing a business model for the secondary use of lithium-ion batteries used for EVs. In the spring of next year, ITOCHU will begin working on Japan's first project for demonstrating smart street lighting using state-of-the-art technology, which will also take place in Tsukuba City as part of ITOCHU's energy management business initiatives.
In addition to the project, ITOCHU will continue to work on diverse projects that help to resolve social issues, such as the development of a low-carbon society, the efficient use of energy, and a response to the rapidly aging society.

Specifications of vehicle to be used for tailgate sales
| | |
| --- | --- |
| Model to be converted (planned values) | Isuzu ELF Wide Long, 2WD |
| Dimensions (length x width x height) | 6,165 mm x 2,180 mm x 3,030 mm |
| Capacity | 3 persons |
| Empty vehicle weight (planned value) | 4,965 kg |
| Max. motor output | 100 kW (diesel engine, 110 kW, 375 N-m) |
| Transmission | M/T |
| Battery type/capacity | Li-ion battery from EnerDel/ 48kWh |
| Travel distance per charge (planned value) | 100 km |
| Power consumption of the container (store side) | 2.5 kW |
| Photovoltaic power generation | 0.4 kW |
Projects for Development of Technology to Counter Global Warming
These projects are designed to encourage initiatives to combat global warming by accelerating the application of technologies developed to reduce energy-related CO2 emissions, and to promote green innovation based on strategies for encouraging environmental research and the development of environmental technologies. These initiatives will be pursued through experimental studies for finding applications for technological development outcomes, research and development for eliminating trade-offs between global warming and other environmental problems, and the development of other technologies for reducing emissions of energy-related CO2 emissions, which need to be and can be put into practice promptly but require further action.
Image of vehicle to be used for the tailgate sales (Isuzu ELF)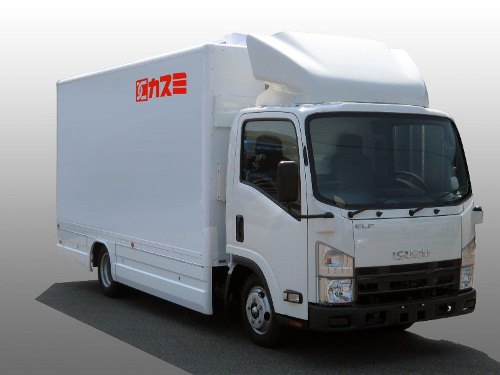 ---