ITOCHU Wins Good Design/Sustainable Design Award for Pre Organic Cotton Program
November 9, 2011
ITOCHU Corporation (headquartered in Minato-ku, Tokyo; Masahiro Okafuji, President & CEO; hereinafter "ITOCHU") announced today that the Pre Organic Cotton Program* jointly run with kurkku Co., Ltd. (headquartered in Shibuya-ku, Tokyo; Takeshi Kobayashi, Representative Director; hereinafter "kurkku") has won the Good Design/Sustainable Design Award (presented by the Minister of Economy, Trade and Industry) at the Good Design Award 2011 program, renowned as a program that greatly contributes to sustainable society through business.

About the Pre Organic Cotton Program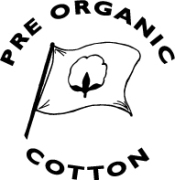 ITOCHU and kurkku jointly plan and operate the Pre Organic Cotton Program for supporting Indian farmers for transferring cotton farming to organic cotton cultivation. It involves activities for stopping the vicious circle of environmental damage and health hazards caused by pesticides and chemical fertilizers, and economic burdens on farmers due to increased cost of pesticides, by purchasing cotton with an added subcidy for organic cotton farming during a three-year transition, giving guidance on organic farming and supporting acquisition of organic farming certificates so that Indian cotton farmers can make the shift. Activities began in 2007. As of November 2011, 2,500 farming households have been supported and upward of 40 brands have been introduced.
Good Design Award is the comprehensive design promotion system organized by the Japan Institute of Design Promotion, consisting of Good Design Awards and Good Design Special Awards. The latter awards are given to winners selected from Good Design Award recipients. The awarding system has been carried out for over 50 years since its establishment in 1957, continuously rewarding good design that enriches living, industry and all of society. About 1,000 awards are given each year, totaling around 37,000 over 50 years.
In Good Design Award 2011, 1,112 of 3,162 applicants were recognized. Good Design Special Awards included the Good Design Grand Award (1), Good Design Gold Award (12) and Good Design Sustainable Design Award (5).

• Good Design Award judge's comments
This program handles the design of a platform where farmers, spinning companies, apparel brands, retailers and consumers try to solve social problems as one with continuity. It is also about the design of a new social-participatory lifestyle with consciousness of the global environment, and a program that aims at materializing a sustainable society through business. It is realized by making a cycle of the flow including distribution, sale and consumption, as well as aspects of production, and constructing a system that goes in cycles commercially in support of farming households. Such cycles help to not only grow developing countries but also change Japanese people's consciousness and enrich their lives when they learn of the real situations in developing countries. In many cases the term organic in Japan is still used to mean free of pesticides. The concept of being organic is growing as a new and rich value in daily life that is natural, sustainable and ethical. Against this backdrop, the program can be highly regarded as going beyond the scope of fair trade and eco-friendly design and making a great contribution to realization of sustainable society.
Encouraged by this award, ITOCHU and kurkku will further expand the Pre Organic Cotton Program while building understanding and empathy among varied businesses, organizations and consumers.
Exhibited at Good Design Expo 2011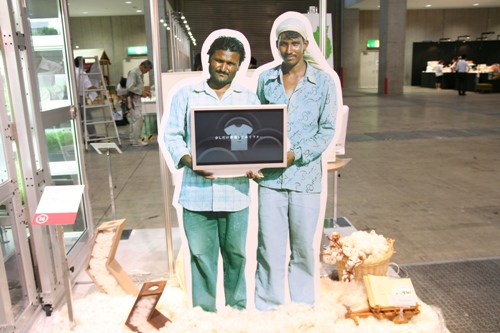 ---