ITOCHU Announces Acquisition of Exclusive Import and Sales Rights for Franck Boclet Brand Products
December 15, 2011
ITOCHU Corporation (headquartered in Minato-ku, Tokyo; Masahiro Okafuji, President & CEO; hereinafter "ITOCHU") announced today that it has acquired the exclusive right to import and sell products of Franck Boclet, which has been in a focus as an emerging designer's brand to lead men's mode in Paris. Products will be sold starting with the 2012 autumn-winter season, through Incontro Company, Ltd. (headquartered in Chuo-ku, Osaka-shi, Osaka; Taichi Yamamoto, President)
Designer Franck Boclet has diverse experience, including a stint as men's products manager with Kenzo, artistic director with Smalto, and artistic designer for men's products with Emanuel Ungaro. He established his own brand Franck Boclet in 2010 in Paris, backed by the extensive knowledge of materials, cutting, sewing, and other aspects he acquired through 30 years of experience with the fashion industry, and using only suppliers trusted by prestigious maisons.
The greatest feature of the Franck Boclet brand is that techniques of traditional sartoria (note: sartoria is an Italian word meaning a tailor who creates clothes with craftsmanship) have fused with the latest mode. The advanced techniques and sophisticated details made in Italy create a lean silhouette that never feels tight, offering the greatest comfort when worn.
The brand has established its head office and showroom on Avenue Montaigne in Paris. With its main high-end shops in L'Eclaireur of Paris and Luisa via Roma in Florence, the brand has made inroads into Italy, Russia, and Asia. Its 2011 autumn-winter collection was invited to Exhibition White held in Milan as guest of honor. Consequently, the brand has been developing a global presence.
ITOCHU is starting promotion in Japan in the 2012 autumn-winter season, targeting men in their 30s and 40s who seek high-quality tailoring combined with unique styles. The products will be sold at leading department stores and influential shops selling select products. The retail price ranges planned are as follows: 170,000 to 490,000 yen for coats, 70,000 yen to 290,000 yen for jackets, 20,000 yen to 50,000 yen for shirts, 20,000 yen to 180,000 yen for pants, 10,000 yen to 290,000 yen for leather goods and bags, 80,000 yen to 170,000 yen for knitwear, and 80,000 yen to 150,000 yen for shoes. Sales of 500 million yen are targeted in three years, based on retail prices.

Incontro Company, Ltd.
| | |
| --- | --- |
| Company name | Incontro Company, Ltd. |
| Representative | Taichi Yamamoto, President |
| Head office | 2-3-5 Awaji-machi, Chuo-ku, Osaka-shi |
| URL | http://www.incontro.co.jp/ |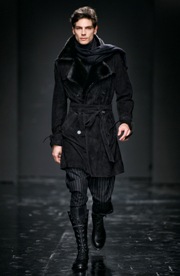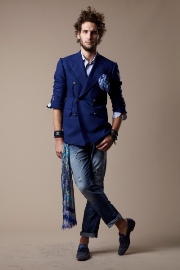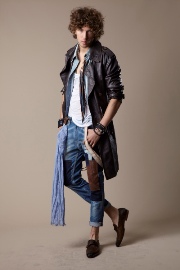 ---