President's New Year Message for 2012
January 4, 2012
At 9:00AM on January 4, around 2,000 employees participated in a ceremony to celebrate the new year at the first floor lobby of the Tokyo Head Office. Following an address from the president, participants enjoyed a stirring performance of the Japanese taiko drums as they prayed for successful in business, safety, and good health for the ITOCHU Group for the coming year. The drums evoked the power and vigor associated with the year of the dragon.
Let me begin by wishing everyone a Happy New Year.
I would like to start the year off by offering a few words to all members of the ITOCHU Group around the world.

Looking Back on 2011
2011 was a year of unwelcome surprises. Just when expectations were high for a recovery in the global economy, and we thought that the economy was set to expand once more, the Great East Japan Earthquake struck on March 11. Then came a host of unprecedented setbacks affecting the entire globe, including flooding in Thailand and the financial crisis in Europe. At the start of 2011, the average of analysts' forecasts for the end of 2011 were 12,150 yen for the Nikkei 225 and 85 yen for the exchange rate against the U.S. dollar. In fact when I checked the closing prices in the market on December 30, the Nikkei 225 was at 8,455 yen, the exchange rate was in the 76 yen range against the U.S. dollar, and had even broken below 100 yen against the euro at one point; quite a difference from the forecast.
So, how did ITOCHU Corporation fare amid all this financial turbulence in 2011, with an environment where one cannot see what lies ahead at all?
In the financial results for fiscal 2011, we achieved a certain level of profit having divested ourselves of all the bad debts in one fell swoop, and steadily implemented changes to prepare for a leap forward in the future. Then in the first half of fiscal 2012 we recorded the highest ever profit for a half year. On a whole year base, we are on track to achieve our targets, and expecting to make a new record for full-year profit on record too. Moreover, we have invested aggressively. Our total investment for fiscal 2012 is set to exceed 600 billion yen, and we have steadily paved the way for "proactively seeking new opportunities," which I have spoken of before.
As I have noted, ITOCHU Corporation is achieving excellent results despite the unstable business environment, thanks to the supreme effort that everyone has been making. This coming year, however, general trading companies are definitely going to find that environment even harsher as they compete on the global field: the European economies seem unable to end their financial crisis and as the effects of this cause emerging countries to make coping adjustments it is likely to affect the global economy and depress resource prices. The question is: to what degree?

My Request to Employees for 2012
Given this situation, as we enter the new year I would like to ask everyone to return to our roots, that is, our core principles as a trading company: putting into practice the tenets of "Earning, Cutting, and Preventing."
As I said before, the business environment this year is expected to be even tougher than last year. But even in these trying times, we must not let up our bold offensive. Other companies are facing the same tough environment. It is in trying times such as these that we will find opportunities to capture good deals under competitive conditions. I want you all to get an accurate grasp of the enormous changes occurring in the world, cope with them skillfully, and upset conventional wisdom by opening up a radical new trading opportunity. However, this alone opens us up to the danger of receiving a punishing blow later on. We must avoid repeating the mistakes of the past. This year more than ever we must maintain a good understanding of reality at all times and not stint on the "cutting" and "preventing" aspects of our work. I urge you this year to achieve a good balance between offensive and defensive action, and to be thorough in practicing "Earn, Cut, and Prevent."

Closing Remarks
Let me ask all of you to draw inspiration from the name of our current medium-term management plan, Brand-new Deal, as we step forward together to create a brand new ITOCHU.
This brings me to the end of my New Year message. As usual, I will be holding our traditional safety-prayer event. I hope you will join me in praying for prosperous business for our ITOCHU Group around the world this year, and for the health and safety of our employees and their families.

Shidara, a creative Japanese taiko drum group from Okumikawa (Toei-cho, Kitashitara District, Aichi Prefecture), giving a performance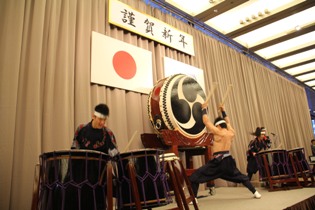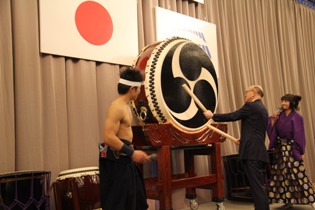 ---