ITOCHU Announces Deployment in France of American Casual Bag Brand LeSportsac
January 20, 2012
ITOCHU Corporation (headquartered in Minato-ku, Tokyo; Masahiro Okafuji, President & CEO; hereinafter "ITOCHU") announced today that it has concluded an exclusive distributorship agreement with TWC SAS (hereinafter "TWC"), headquartered in Paris, for the deployment in France of the American casual bag brand LeSportsac, which holds the international trademark and selling rights. Full deployment of the product in the French market will begin in autumn 2012.
TWC was established in 1999 in Paris as a manufacturer and wholesaler of bags, and is currently a core company of Groupe TWC SAS, a general fashion group company with members including L Capital of the LVMH Group. Having strong ties to many leading Paris department stores, it is today France's leading general fashion retail and wholesale company, selling bags, sunglasses, watches, and other general merchandise.
ITOCHU opened its first LeSportsac brand European flagship store in Frankfurt, Germany in April 2011. Subsequently, it deployed the brand in major department stores in Germany, Switzerland, and Czech Republic, and is now expanding its presence in the European market with the planned opening of a second and third German stores in Dusseldorf and Munich, respectively, in 2012.
The French market is regarded as one of the most important strategic bases, not only for the European fashion industry but for the global fashion industry as well. This alliance between ITOCHU and TWC is extremely important since it will accelerate deployment in the French market as a whole, including Paris, Marseille, and Lyon. Through the opening of a flagship store in Paris, deployment of the brand selling space in the leading department store Galeries Lafayette, and various other deployments utilizing TWC, the alliance aims to further enhance the value of the LeSportsac brand in the French market, which is the global leader in fashion.
Planned deployment in France in five years' time is 12 stores with turnover of 10 million euros (approximately 1 billion yen). From 2012 onward, it is planned to gradually commence full-scale market deployment in Europe, including Italy, the United Kingdom, Benelux countries, Spain, and Russia.
TWC also plans to exhibit the LeSportsac brand at Prêt à Porter Paris to be held in Paris from January 21-24, 2012.
TWC SAS Corporate Profile
Address
47, rue de la Chaussée d'Antin 75009 Paris
Representative
Mr. Alban CHAUMET
Turnover
77,840,131 euros (September 2010 period, Groupe TWC SAS as a whole)
Main business

Manufacture, wholesale, and retail of bags, general merchandise, and accessories   

Representative brands =SCOOTER Paris, CERRUTI, Thierry Mugler, Christian Lacroix
The first European store opened in April 2011 in Frankfurt, Germany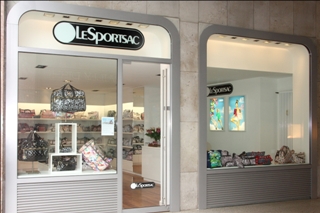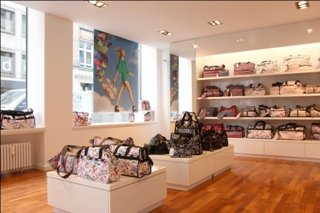 ---