ITOCHU Receives Order for Sewage Facilities in Shenyang, Liaoning, China
March 8, 2012
ITOCHU Corporation (headquartered in Minato-ku, Tokyo; Masahiro Okafuji, President & CEO; hereinafter "ITOCHU") announced today that Chengdu Union Environment Co.,Ltd.(headquartered in Chengdu, Sichuan, China; Pu Wei, CEO),an affiliate of ITOCHU (China) Holding Co., Ltd. has received an order for sewage facilities in five locations in the Hunnan New Area, a new development zone, in Shenyang, Liaoning.
 
The facilities will use Multi-Stage Activated Biological Process (MSABP) (*1), the core technology of the water treatment business of Teijin Limited. MSABP can significantly reduce the amount of excess sludge that is generated. ITOCHU will use a decentralized system that will have a few small and midsize sewage treatment plants to slash investment costs and shorten the construction period.
The agreement is an EPC agreement (*2) between Chengdu Union Environment Co.,Ltd.,and Shenyang. Teijin Limited will provide the MSABP technology and proprietary equipment and material through ITOCHU (China) Holding Co., Ltd.
Since it was established in 1995, Chengdu Union Environment Co.,Ltd. has developed an effluent treatment business in China, especially in Sichuan, providing optimal total solutions, including engineering design, construction, procurement, installation of equipment, commissioning, and training, for municipal and industrial wastewater treatment.
Shenyang is building infrastructure at a rapid rate in preparation for a national athletic meet to be held in the autumn of 2013. The city will receive a great deal of benefit from MSABP. It will be able to introduce advanced technologies for reducing sludge, substantially cut the traditionally large outlays involved in building a sewage system, and shorten the construction period.
China's sewage treatment capability improved spectacularly in its 11th five-year plan (from 2006 to 2010), but the amount of sludge also increased. In response, China is bolstering its safe sludge treatment capability in its 12th five-year plan (from 2011 to 2015) and plans to invest 36 billion yuan, 8% of the budget for sewage treatment, for that purpose. Teijin's technology, which reduces excess sludge, is attracting attention. ITOCHU is aiming to win orders in other regions in China, using the project in Shenyang as a model, through Chengdu Union Environment Co.,Ltd.,

Images of sewage treatment systems and their disadvantages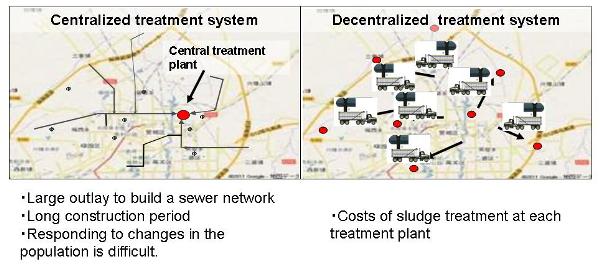 MSABP (Multi-Stage Activated Biological Process)
Teijin's MSABP system utilizes special biological carriers packed with high concentrations of microorganisms in multistage aeration tanks. The microorganisms vary from tank to tank to from a food chain that decomposes even highly concentrated and persistent effluent. The system significantly suppresses the generation of excess sludge, thereby eliminating the need for sludge disposal, resulting in a low-energy, low-maintenance, cost-effective solution. MSABP is a registered trademark of Aquarius Technologies Inc. of the United States.
EPC (Engineering, Procurement, & Construction) agreement
EPC is a form of contracting agreement under which the contractor designs the facility, sources equipment, undertakes the construction, and dispatches supervisors.
---