ITOCHU Announces Agreement to Represent FILA Brand 2012
March 14, 2012
ITOCHU Corporation (headquartered in Minato-ku, Tokyo; Masahiro Okafuji, President & CEO; hereinafter "ITOCHU") announced today that it has concluded agreements with renowned television personalities to serve as the face of the Italian sports brand FILA, for which ITOCHU owns the mater licensing rights in Japan, as part of its promotion activities. For 2012, young, talented actor Junpei Mizobata will once again be the male face of the brand. A contract has also been concluded with TV personality Nozomi Sasaki as the new female face.
FILA is a sports brand founded in 1911 in Biella, Italy. Today, it conveys the style, passion, creativity, and disposition unique to Italy to a worldwide audience. FILA aims to be a brand loved not only by athletes and sports enthusiasts who are striving to win and set new marks, but also by general consumers who enjoy a more casual relationship with sports, for instance as spectators.
Under the circumstances, the fresh, appealing image of Nozomi Sasaki is to be communicated to the all-important younger market, with the determination to better present FILA as a stylish and attractive sports brand from Italy.
Visual materials featuring Junpei Mizobata and Nozomi Sasaki will be advertised in stores, as well as on magazines, websites and various other media starting mid-March, to expand recognition on the FILA brand even further.
The FILA brand celebrated its 100th anniversary last year, and has now begun its 101st year. With its history as its foundation, the identity of the brand as a sports brand loved by consumers who enjoy sports as a part of their lifestyles is to be communicated even more clearly, in an effort to enhance the brand value.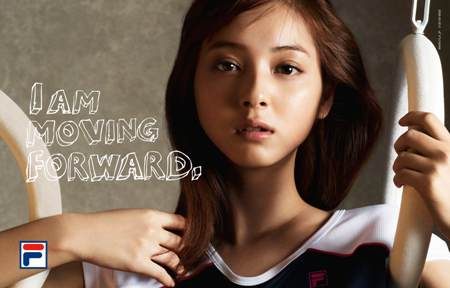 Personal profile of Nozomi Sasaki
Date of birth
February 8, 1988
Born and raised in
Akita Prefecture
Height
168 cm
Career history

2005:Awarded the Grand Prix in the teenager beauty contest hosted by the Weekly Young Jump magazine, and made a debut in the entertainment world

2005:Awarded Grand Prix in the Second Princess PINKY audition hosted by PINKY magazine, from among 4,290 contestants

2010・2011:Selected as one of the "The 100 Most Beautiful Faces" presented by the film information website TC Candler of the United States, ranking highest among Japanese celebrities for two consecutive years

Today:Active as a regular model for non-no magazine and in a wide range of media such as films, drama, and commercials

Official website
http://www.s-nozomi.com/
Appearances

TV drama "Would I be blessed with the luxury of falling in love?"

Commercials: Lotte Fits, Willcom fixed-rate mobile phone service, Fujifilm

Films: Afro Tanaka, Angel Love, Paikaji Nankai Sakusen, and many others
Comment on FILA
"FILA is wonderful in that it conveys the elegance and stylishness of Europe, even though it is a sports brand."
Reference
(1)History of FILA
1911 Founded in Biella by the Fila brothers
1973 Launches sportswear business
1976 Björn Borg wins the Wimbledon Championship for the first time wearing FILA, and for five consecutive years thereafter the brand has since supported numerous athletes.
1978 The brand is launched in the Japanese market.
2006 ITOCHU becomes the master licensee.

(2)Sub-licensees and product composition
| Licensee name | Items |
| --- | --- |
| Ichihiro Co., Ltd. | Towels |
| Kurihara Corporation | Hats/Caps |
| Galax Co., Ltd. | School gym wear |
| Gunze Limited | Night wear |
| Saimoto Bicycle Co., Ltd. | Bicycles |
| Bicycles | Athletic wear and snow wear |
| Secaicho Union Corporation | Foot wear |
| Daiwabo advance Co., Ltd. | Casual wear |
| Tomokuni Co., Ltd. | Gloves, scarves, ear muffs |
| Nikki Co., Ltd. | Golf wear, swimwear, running and fitness wear |
| Fukuske Corporation | Men's innerwear, socks, stockings |
| Yagi & Co., Ltd. | Children's wear |
| Young Sangyo Co., Ltd. | Bags |
---