Exploration Achievements on Ruddock Creek Zinc/Lead Joint Exploration Project in Canada
March 15, 2012
Mitsui Mining & Smelting Co., Ltd. (hereinafter "Mitsui") and ITOCHU Corporation (hereinafter "Itochu") announced today successful drill results resulting in an increase of 162% or more than 6 million tonnes of mineral resource from 2010-2011 exploration program on the Ruddock Creek zinc/lead joint exploration project in Canada, in which they have been participating since 2010. A total of 10 million tonnes of mineral resource has now been identified at Ruddock Creek.
Based upon the drill results, both Mitsui and ITOCHU have elected to continue exploration in 2012 (Year 3) to further increase the mineral resource and plan to conduct initial studies with the intention to develop and operate the project.
Mitsui and ITOCHU shall acquire an additional 15% interest in the Ruddock Creek Property from Imperial Metals Corporation (hereinafter "Imperial") by spending an additional CAN$6 million (0.5 billion yen) by March 31 2013.
Zinc is used for automobile, infrastructure-related facilities, etc. and further growth in demand is expected, especially in emerging countries. Both Mitsui and ITOCHU believe that this project will contribute to ensuring a reliable source of zinc raw material for our country.
Furthermore, ITOCHU is closely cooperating with ITOCHU Mineral Resources Development Corporation, which was established in 2011, for achieving development of Ruddock Creek project.

Profile of Ruddock Creek Project
| | |
| --- | --- |
| Project Name | Ruddock Creek Zinc/Lead Joint Exploration Project |
| Location | British Columbia, Canada. Approximately 400 km north east of Vancouver. |
| Ownership | Imperial 50%, Mitsui 30%, ITOCHU 20% (after acquiring 15% interest) |
| Project Area | Approx. 110km2 |
Target Production Plan
| | |
| --- | --- |
| Minable reserve | Minimum 10 million tonnes |
| Products | Zinc concentrates, Lead concentrates |
| Production | Approx. 50,000 tonnes/year (Zinc and Lead on metal basis) |
Location Map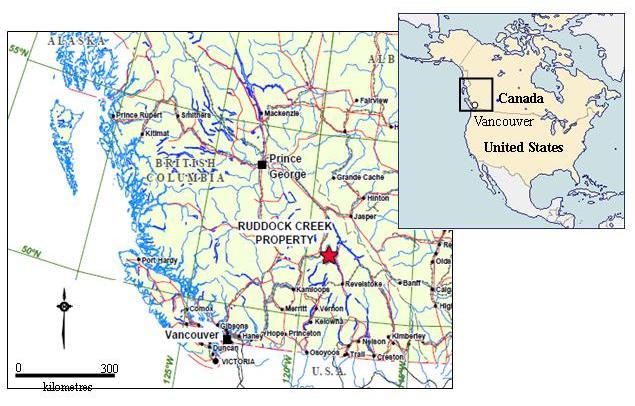 Profile of Imperial Metals Corporation
Principal Address
Vancouver, British Columbia, Canada
Listing
Listed on the Toronto Stock Exchange (TSX-III)
Establishment
2001
Business Activities

Mining company that owns and operates the Mount Polley Mine (100% interest – copper, gold), the Huckleberry Mine (50% interest – copper, molybdenum), and commencing development of the Red Chris Mine (100% interest – copper, gold) in Canada.

In addition to zinc and lead, exploration for copper, gold and molybdenum.
---