ITOCHU Announces Asia Tie-up Promotion between LeSportsac and SHUFUNOTOMO's mina
April 2, 2012
ITOCHU Corporation (headquartered in Minato-ku, Tokyo; Masahiro Okafuji, President & CEO; hereinafter "ITOCHU") announced today that it has recently commenced an Asia promotion project between LeSportsac, an American casual bag brand whose worldwide trademark and distribution rights are owned by ITOCHU, and mina, a woman's magazine issued by SHUFUNOTOMO Co., Ltd. (headquartered in Chiyoda-ku, Tokyo; Yoshiyuki Ogino, President & CEO; hereinafter "SHUFUNOTOMO").

The main feature of this project is to facilitate the promotion of LeSportsac through the "mina/LeSportsac Book In Book," a book in book created in a tie-up with mina, a woman's magazine published in Asian countries and regions, in seven Asian markets (Japan, China, Hong Kong, Taiwan, Malaysia, Singapore and Thailand). This is the first endeavor of its kind for ITOCHU and SHUFUNOTOMO.
In the "mina/LeSportsac Book In Book", we will introduce new collections to be launched worldwide for the spring/summer 2012 season, as well as introduce exclusive merchandise which will be offered in each Asian country and region. This will enable us to focus on both the global and local market. Beginning with the May edition of mina in Japan, to be published on March 19, the "mina/LeSportsac Book In Book" will be launched in China (March 23), Hong Kong (March 23), Malaysia/Singapore (April 1), Taiwan (April 5) and Thailand (March 29, * The "S Cawaii!" only in Thailand) in series, by translating the content of the Japanese edition into the languages of these regions.

mina (first published in March 2001; print run 231,367) has been expanding throughout Asia since it was first published in Taiwan in 2002, with the print run increasing to 1,050,000 in China, 70,000 in Hong Kong, 120,000 in Taiwan and 50,000 in Malaysia/Singapore, and with the first issue to be published soon in Thailand. It has grown into a woman's magazine that is popular with young women in Asia. ITOCHU will increase the recognition of the LeSportsac brand among young women in Asia based on the tie-up with mina in this project, and will build a new promotion model jointly with SHUFUNOTOMO that brackets Asian markets together.

Cover of mina in each country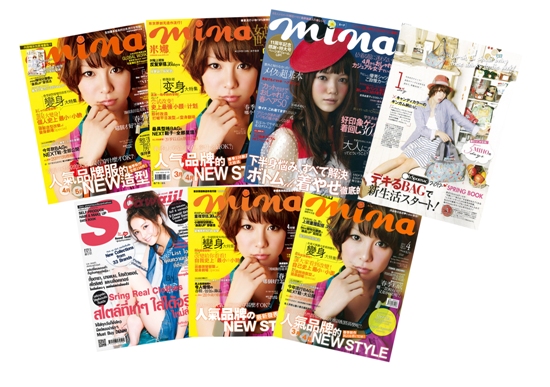 ---