Excite Launches the First Point Rewards Program Site in Indonesia
June 6, 2012
Excite Japan Co., Ltd. (headquartered in Minato-ku, Tokyo; Kiyoshi Imagawa, President; hereinafter, "Excite") announced today that it has launched its first point rewards program site, "Excite Point" (http://point.excite.co.id


), in Indonesia, together with ITOCHU Corporation (headquartered in Minato-ku, Tokyo; Masahiro Okafuji, President & CEO; hereinafter "ITOCHU") and the Sinar Mas Group of Indonesia.
Point rewards program is a marketing method that provides points as specific benefits that can be exchanged for goods or services to users. Internet point rewards programs are already widespread in Japan. Excite Point users can earn points by registering for membership, purchasing goods, responding to questionnaires, etc., online. These points can then be exchanged for the goods or services of the companies participating in the point program. For participating companies, the program helps promote sales of their goods and services. In the initial period following the introduction of the service, points will be exchangeable for free calls and data transmission on Smartfren Telecom, a mobile network operator within the Sinar Mas Group, and this is expected to provide a large benefit to users in Indonesia's mobile phone market, where over 90% of users have prepaid subscriber contracts.
Currently in Indonesia, although companies provide rewards programs for marketing purposes, like airline mileage programs and the rewards offered by credit card companies, no business model has been found that provides a system to use the "advertising fees" collected from the companies participating in the point program to obtain funds for the points awarded to users, making this the first point program in Indonesia.
As an Excite brand holder, ITOCHU will support the service deployment in cooperation with Excite, using the group's approximately 130 bases in 66 countries and its network around the world. For more than fifty years, ever since it opened its Jakarta office in 1958, ITOCHU has been promoting a wide range of business inside Indonesia, focusing on local transactions. Using its network and many years of experience, it will help promote the program, expand redemption partners, especially in the business areas of Sinar Mas Group, such as real estate, financial services, telecommunications, etc, and acquire advertisers.

Indonesian Market
The average age of the Indonesian population, the fourth largest population in the world with approximately 240 million people (of which 9.59 million reside in Jakarta), is 27.9 years old. Its labor population is in excess of 100 million and constitutes a very attractive consumer market. Internet users number approximately 55 million, the fourth highest in Asia, but penetration is still low, at slightly less than 20%, leaving plenty of room for growth. The number of mobile phone contracts is approximately 180 million, and a large marketing opportunity is expected to accompany the shift to smartphones in the near future.
About the Sinar Mas Group
The Sinar Mas Group is centered around pulp and paper and the palm oil business, and is one of the largest conglomerates in Indonesia. It was established in the mid-1960s by Eka Tjipta Widjaya. Currently run by Teguh Ganda Wijaya, the eldest son of the founding family, it is engaged in a wide range of business with a focus on pulp and paper, agriculture and food, construction and real estate, financial services, and telecommunications.
About Smartfren Telecom
Smartfren Telecom is an Indonesian CDMA-based mobile network operator and listed on the Indonesia Stock Exchange. With a business focused on data communications, its subscribers number approximately 10 million.
Excite Point flow chart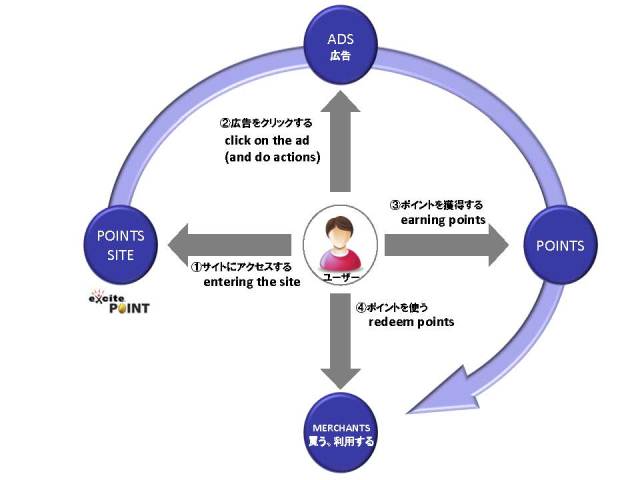 ---