On the Sale of Lady Gaga's First Fragrance, Lady Gaga Fame
-On sale for a limited time starting August 1 at Tokyu Plaza Omotesando Harajuku ahead of worldwide release-
July 12, 2012
ITOCHU Corporation (headquartered in Minato-ku, Tokyo; Masahiro Okafuji, President & CEO; hereinafter "ITOCHU") announced today that its associated textile company T. Kawabe & Co., Ltd. (headquartered in Shinjuku-ku, Tokyo; Hisakazu Yoshida, President; hereinafter "Kawabe"), which has the exclusive right to import and sell Lady Gaga brand's first fragrance to the Japanese market, will launch the product for sale at Tokyu Plaza Omotesando Harajuku on August 1 ahead of the worldwide release in September.
New York (June 14, 2012) – The multi-platinum, Grammy award-winning artist Lady Gaga has announced the worldwide release of her first fragrance, Lady Gaga Fame, in September 2012.
Lady Gaga's first fragrance, to be released jointly with the artist's own Haus Laboratories and major US fragrance company Coty Inc. (Coty Beauty US, hereinafter "Coty"), is the newest ground-breaking expression of her creativity.
In Japan, the product will be launched on August 1, one month ahead of the worldwide release, at Lady Gaga Haus Laboratories, to be opened in the Omohara Station pop-up store area on the third floor of Tokyu Plaza Omotesando Harajuku. The store, which will be the only one of its kind in the world and will be open for a limited period, will have a display that represents Haus Laboratories's image and a message from Lady Gaga to her little monsters (nickname for her fans).
The café adjacent to the store will concurrently offer original drinks and sweets, creating a space that would be a feast for the five senses.

About Lady Gaga Fame
Innovative technology allows this first ever black Eau de Parfum to turn invisible once airborne. This black-to-clear patent-pending fluid technology is a fantastic innovation that will be unveiled simultaneously with Lady Gaga Fame. The bottle was designed by Nick Knight, and the advertising campaign was directed and photographed by Steven Klein.
Lady Gaga Fame is based on push-pull technology, a unique aromatic structure that makes the ingredients interact to accentuate various aspects of each note simultaneously -- unlike the traditional fragrance pyramid -- and allows the scent to achieve a genuine metamorphosis.
The fragrance is composed of three accords: dark, sensual, and light. The dark accord, which was inspired by the poisonous plant Belladonna that belongs to the Solanaceae family, evolves into an opulent and sensual accord of honey, saffron and apricot nectar. And finally, the light accord, composed of a rich floral scent of crushed Tiger Orchid and Jasmine Sambac, depicts timeless beauty, completing this fragrance composed of floral and fruity elements.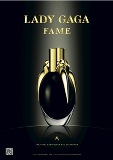 Company Overview: T. Kawabe & Co., Ltd.
| | |
| --- | --- |
| Company name | T. Kawabe & Co., Ltd |
| Representative | President Hisakazu Yoshida |
| Principal office | 4-16-3, Yotsuya, Shinjuku-ku, Tokyo 160-8403 |
| Date of incorporation | November 1942 |
| Capital | 1,720.5 million yen |
| Number of employees | 591 |
| URL | http://www.kawabe.co.jp/ |
Lady Gaga Haus Laboratories Overview
Tokyu Plaza Omotesando Harajuku, 3rd floor, Omohara Station
4-3-3, Jingumae, Shibuya-ku, Tokyo
Period: August 1 (Wed.) – August 31 (Fri.), 2012 11:00 AM – 9:00 PM

---