ITOCHU Acquires UK-based Bramhope Group Holdings Ltd.
July 19, 2012
ITOCHU Corporation (headquartered in Minato-ku, Tokyo; Masahiro Okafuji, President & CEO; hereinafter "ITOCHU") announced that it has, with ITOCHU Europe PLC (headquartered in London, UK; Takeshi Kumekawa, CEO; hereinafter "ITOCHU Europe"), concluded an agreement to acquire 100% of the shares of major UK-based manufacturer and wholesaler Bramhope Group Holdings Ltd. (headquartered in Huthwaite, UK; Mike Shotton, Chairman & CEO; hereinafter "Bramhope").
Apparel company Bramhope, established in 2000, commands one of the highest shares in apparel procurement for prominent UK retailer Marks & Spencer PLC, its major customer. Bramhope's wide range of product lineup is centered on women's inner wear and men's shirts and also includes pantyhose and lingerie. Amid fears of a European economic crisis and harsh conditions for the apparel industry, Bramhope has been steadily increasing its earnings through accurate product planning and realistic pricing.
In addition to its refined product-planning prowess in the United Kingdom, Bramhope's great strength lies in its extensive production network that includes its own factories in India, Sri Lanka, Cambodia, and factories that it has tied up with in other ASEAN countries. Bramhope has set up top-notch factories that meet Mark & Spencer's stringent management standards, including working conditions and social contributions, and is manufacturing as well as supplying high-quality and competitively priced products.
Specifically, Bramhope made inroads into Cambodia—now in the spotlight as a manufacturing base for textiles—ahead of its competitors. The company not only pursues high-quality products and cost reductions, but also focuses on training, such as in English-language and IT education, for factory workers. The company has been praised from the standpoint of social contributions, and has received an award from the local government for operating a factory that provides safe working conditions for the workers.
ITOCHU sees Europe as an enormous consumer market and aims to further expand its commercial rights as well as explore a stable production base for textile products following China. To this end, it has arrived at this stock acquisition in expectation of synergies, such as from expanded business with Marks & Spencer and a new production base in Asia outside of China.
Going forward, ITOCHU plans to strategically accelerate sales of textile products to leading European retailers by harnessing Bramhope's planning and production platform through ITOCHU Europe. It also plans to position Bramhope's high-quality and price-competitive production as part of an essential manufacturing base in ASEAN. We will apply ourselves to improving Bramhope's corporate value and expanding its business for the world, including Japan, by utilizing ITOCHU's global network.

Bramhope Overview
| | |
| --- | --- |
| Company name | Bramhope Group Holdings Ltd. |
| Representative | Mike Shotton |
| Head office location | Huthwaite, United Kingdom |
| Established | 2000 |
| Capital | 2.9 million pound sterling (around 360 million yen) |
| Business | Planning/production/sales of men's shirts, trousers, women's inner wear, pantyhose, lingerie, etc. |
| Sales | 116 million pound sterling (around 14.5 billion yen) in FY3/2012 |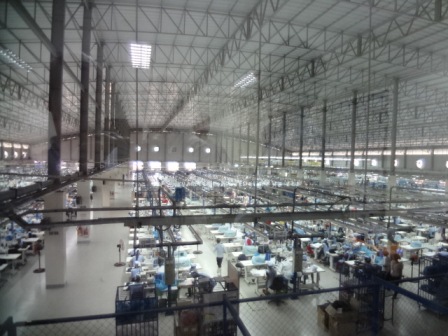 ---