ITOCHU Announces Capital Participation Agreement on Kureha Battery Materials Japan
July 31, 2012
ITOCHU Corporation (headquartered in Minato-ku, Tokyo; Masahiro Okafuji, President & CEO; hereinafter "ITOCHU") announced today that ITOCHU, Kureha Corporation (hereinafter "Kureha"), Kuraray Co., Ltd. (hereinafter "Kuraray") and the Innovation Network Corporation of Japan (hereinafter "INCJ") have concluded an agreement to jointly inject as much as 20 billion yen in capital into Kureha Battery Materials Japan Co., Ltd. (hereinafter "KBMJ"). KBMJ was established as a joint venture by ITOCHU and Kureha in April of last year to handle materials for lithium-ion batteries (hereinafter "LiB"). With the capital participation of Kuraray and INCJ, the four companies plan to further accelerate KBMJ's growth.
1. Background to the capital participation agreement
KBMJ was established by ITOCHU and Kureha as a joint venture and started operations on October 1, 2011, with the aim of manufacturing and selling CARBOTRON®P, a hard carbon anode material for LiBs, and to sell binders for LiB binders. In December 2011, Kureha and Kuraray reached an agreement to jointly commercialize Biocarbotron, a hard carbon anode material derived from plant material used for LiBs. Through these arrangements, ITOCHU and Kureha positioned KBMJ to become a central company within the rapidly growing LiB materials network. As such, the companies had been aiming to create a unique position by harnessing each company's strength.
This time around, KBMJ will reinforce its financial base and further accelerate its growth with the participation of Kuraray and INCJ -- a company that aims to provide growth capital into innovative companies – as KBMJ's shareholders.
ITOCHU is proactively investing in LiB materials businesses as part of its move to strengthen its initiatives in the LiB field. In the area of anode materials, ITOCHU has also been working on accelerating the global expansion of CARBOTRON®P by maximizing its potential by utilizing its wide-ranging management resources, its global network and its integrating capability.

2. Details of the capital participation, use of capital
KBMJ plans to raise as much as 20 billion yen over the next two years by issuing ordinary shares to ITOCHU, Kureha, Kuraray and INCJ through a private placement, and in addition, will issue non-voting preferred shares to INCJ.
KBMJ plans to mainly use the procured funds for capital expenditures aimed at setting up a stable, large-scale global supply structure for CARBOTRON®P and Biocarbotron, hard carbon anode materials used for LiBs.
Amount of maximum capital participation is as described below.

| | Type of shares to be issued | Amount of maximum capital participation |
| --- | --- | --- |
| INCJ | Ordinary shares and non-voting preferred shares | around 10 billion yen |
| ITOCHU | Ordinary shares | around 2.2 billion yen |
| Kureha | Ordinary shares | around 5.5 billion yen |
| Kuraray | Ordinary shares | around 2.2 billion yen |
| Total | | around 20 billion yen |
Capital participation as of the end of August, 2012, is expected to be approximately 2 billion yen in total.
3. KBMJ's operational structure
The ratio of voting rights in KBMJ following the agreement on capital participation is as follows.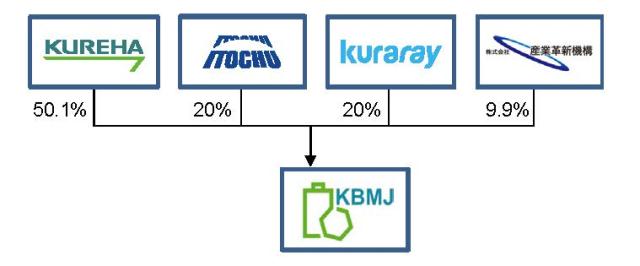 About Kureha Battery Materials Japan Co., Ltd. (KBMJ)[As of July 31,2012]
| | |
| --- | --- |
| Company name | Kureha Battery Materials Japan Co., Ltd. |
| Head office | 3-3-2, Nihonbashi-Hamacho, Chuo-ku, Tokyo |
| Type of business | Manufacturing and sale of CARBOTRON®P, an anode material for LiBs, and sale of binders for LiB |
| Shareholder structure | Kureha 70%, ITOCHU 30% |
| Chief representative and president | Hideo Nakatani, President & Chief Executive Officer (Senior Vice President of Kureha in charge of the Battery Materials Business Division) |
| Established | April 5, 2011 (operation started from October 1, 2011) |
| URL | http://www.kureha-battery.co.jp/ |
About the Innovation Network Corporation of Japan (INCJ)
INCJ was established by law in July 2009 with the aim of fostering a new generation of industries by promoting open innovation. With the ability to invest more than 2 trillion yen, INCJ's mission is to support industrial innovation by investing in innovative businesses.
INCJ is operated by private-sector staff possessing diverse experience, encompassing investment, technology and management. By having its Innovation Network Committee, which is established in accordance with laws and ordinances, vet each investment in compliance with the standards established by the government, INCJ is investing with an eye to contributing to Japan's industrial innovation.
INCJ has to date announced investments totaling around 400 billion yen in 27 projects. Going forward, INCJ will implement its hands-on investment approach in developing businesses with advanced underlying technology through their intellectual property funds; expanding venture company businesses; reorganizing and consolidating businesses with their core strength in technology; and promoting overseas expansion via international acquisitions. For the foreseeable future, INCJ aims to invest in these businesses that are active in areas including the electronics and IT industries, which are linked to environmental energy, biotechnology and life sciences, infrastructure-related industries that include water supply businesses.

---