ITOCHU Announces Sales of Portable Medical and General Use Large Capacity Batteries
August 6, 2012
ITOCHU Corporation (headquartered in Minato-ku, Tokyo: Masahiro Okafuji, President & CEO; hereinafter "ITOCHU") announce that it commences sales of portable large capacity batteries in response to the anticipated power shortage this summer, and for disaster and emergency use.
The product was devised by ITOCHU based on market needs and is developed and manufactured by Nexcon Technology Co., Ltd. (hereinafter "Nexcon"), a leading manufacturer of protection circuit modules. With a focus on portability, it features a 2.2 kWh capacity battery housed in a compact body measuring 27 cm (W) x 33 cm (D) x 44 cm (H), enabling 15 hours viewing of a 32-inch TV or 140 hours charging of smart and mobile phones. The product weights 25 kg, and is the smallest and lightest of all batteries in the industry with the same capacity.
The product is able to be carried by a single adult and can be transported by car, enabling it to be used for new applications such as securing electric power in areas where power failure has occurred.
Two models of the product are available: one for general use and the other for medical use.
The medical use model has been developed with the cooperation of IMI Co., Ltd. (headquartered in Koshigaya, Saitama Prefecture), a manufacturing and sales company of artificial respirators. The product is able to provide approximately 50 hours of backup power, although this will depend on the artificial respirator model.
ITOCHU has positioned the product for backup use in disasters and emergencies, and commences sales to companies, convenience stores, and condominiums as well as hospitals and clinics. It aims to sell 500 units this fiscal year.
Other than portable batteries, ITOCHU will promote line-up of stationary batteries for family use, industry and commercial use, renewable energy generation use, etc.

Product Outline: General Specifications
Battery
Lithium ion cells
Storage battery system capacity
2.2 kWh
Input port
Adapts to 50/60 Hz
Output port

Practical charge time / 4 hours

Adapts to 50/60 Hz

Sine wave / Distortion factor below 3%
Dimensions
277 mm (W) x 330 mm (D) x 438 mm (H)
Weight
25 kg
User interface

LCD (battery level, charge/discharge state display)

LED (charge, output, warning display)
Operating temperature environment
Charge / 0°C – 45°C, Discharge / -10°C – 55°C
Photograph of the Product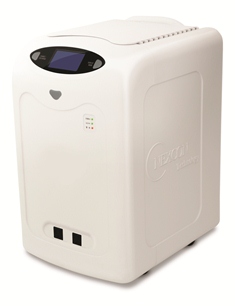 Outline of Nexcon Technology Co., Ltd.
A global leader in protection circuit modules, which are key devices for lithium ion battery systems (listed on the KOSDAQ).
Established
1996
Address

Yobang-Ri 303-1, Sunggeo-Eup, Subuk-Gu,

Cheonan City, Chung-Nam, Korea
Capital
8,700 million won (equivalent to about 600 million yen)
No. of employees
650
Business

R&D for secondary cell-related technology with a focus on lithium ion

cells, manufacture of lithium ion secondary battery package products for

mobile phones and notebook PCs
Business partners
Nokia, Sony, Apple, Panasonic, Hewlett Packard, Samsung Electronics, LG Chem, etc.
Outline of IMI Co., Ltd.
| | |
| --- | --- |
| Established | 1974 |
| Address | 3-12, Ryutsu Danchi 3-chome, Koshigaya-shi, Saitama, Japan |
| Capital | 1,111 million yen |
| No. of employees | 266 |
| Business | Medical equipment imports, sales, rentals and maintenance |
| Business partners | University hospitals, National, public and private hospitals, Medical equipment trader |
---