ITOCHU Announces Expansion of Business in Karawang International Industrial City, Indonesia
October 22, 2012
ITOCHU Corporation (headquartered in Minato-ku, Tokyo; Masahiro Okafuji, President & CEO; hereinafter "ITOCHU") announced today that ITOCHU Corporation has agreed with Sinar Mas Group, one of the largest conglomerates in Indonesia, on a new acquisition of 200 hectares (ha) of land for developing Industrial Park in Karawang International Industrial City (KIIC, in Indonesia), which is a joint venture operated by ITOCHU and Sinar Mas Group, in order to secure industrial land that meets the needs of Japanese manufactures, eager to expand their business in Indonesia.
KIIC is located 55 km away from CBD Jakarta (about one hour east via expressway), and approximately 130 companies are operating their factories in total development area of 1,400 ha, including the additional land acquisition. This year, KIIC marks the 20th anniversary from its inception in 1992, and more than 80% of the customers are Japanese oriented companies due to a better quality of an estate management and administration for the past 20 years. KIIC also has advantages of various facilities to support the customers (such as 160 rooms of serviced apartments, two Japanese restaurants, three banks, convenience stores, and sports facilities) and started the ready build factories(RBF) to satisfy diversified expansion demands.(RBF; land area of 5 ha and Gross floor area of 27,000 sqm).
In reference to the schedule for sale and delivery of the new industrial park, to meet the demand from Japanese manufactures, KIIC will be commencing its development and sale in mid - 2013 and the expected delivery of land will be scheduled in 2014 or thereafter, while a part of newly acquired land is ready for advance sales and development.
Sale prices of land will be announced accordingly.
ITOCHU will strive actively to expand its businesses with leading partners, focusing Indonesia as one of the strategic areas for real estate investment and development in Asia.
Summary of KIIC
| | |
| --- | --- |
| Company name | Karawang International Industrial City (abbreviated name:KIIC) |
| Access | About 55 km from Jakarta City (about one hour via expressway) |
| Commencement of business | 1992 |
| Shareholding | 50% by ITOCHU, 50% by Sinar Mas Group |
| Development area | Approximately 1,400 ha (200ha out of which will be expanded accordingly) |
| Number of companies under operation | About 130 companies (more than 80% of which are Japanese-affiliated companies) |
Location map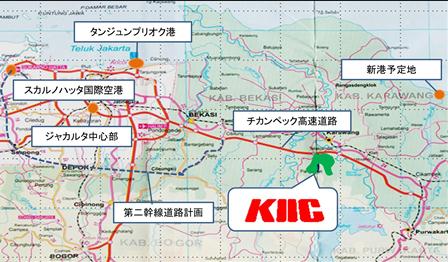 ---